TOMATO RISOTTO WITH BLACK GRAM & ROASTED VEGETABLES
By Nmami Agarwal 07-Jun 2020 Reading Time: 5 Mins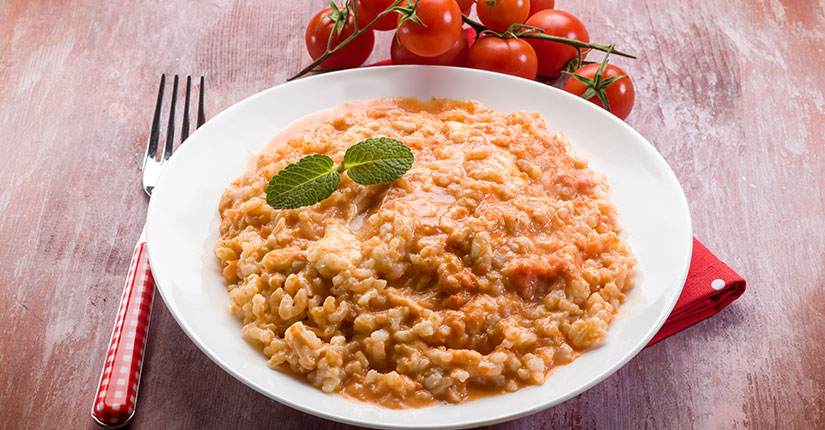 The creamy texture and flavourful dish prepared with rich colour tomatoes, basil and roasted vegetables is all set to be added in your cookbook. It is a wholesome filling meal which makes for a perfect dinner option.
Intro
Risotto is a traditional Italian dish prepared with Arborio rice and is starchier which gives it a creamy texture. But, here we have replaced starchy Arborio rice with normal white rice or Samak rice or millets (whatever is available with you). The added goodness of kala chana with bell peppers and zucchini makes this dish wholesome and packed with nutrients.
Ingredients:-
For Roasted Vegetables
5 to 6 cherry tomatoes or 1 medium sized regular tomato
½ small sized red bell pepper
20 grams – zucchini
½ teaspoon black pepper
Himalayan Pink Salt
1 teaspoon olive oil
For the Risotto
30 grams Rice or Millet (as per availability)- soaked for 1-2 hours
30 grams kala chana (Bengal gram), soaked for 6 hours, cooked in pressure pot for 3-4 whistles. (Don't throw away the stock)
1.5 teaspoon of olive oil
30 grams – onion, diced
2-3 – garlic cloves, minced
1 medium sized tomato
Kala chana stock
4 to 5 fresh basil leaves
Per Serving:

Nutrition Info
Amount
Calories
293 kcal
Carbs
36.4 grams
Protein
9.8 grams
Fats
5.4 grams
Method
Preheat the oven at 180 degree Celsius and add olive oil to a roasting tray.
Chop cherry tomatoes, red pepper and zucchini and spread it all in the tray.
Add salt and pepper. Properly coat the vegetables with salt and pepper and then roast.
Now add olive oil to a frying pan on low medium heat.
Sauté the onions for a few minutes and add minced garlic and cook for another minute.
Transfer rice and pour the chana stock then stir it well allowing the rice to absorb it all.
After 15 minutes or when rice is half cooked, add and roasted vegetables into it. Add cooked kala chana.
Add more stock if needed and cook for a few more minutes.
Remove it from the heat and stir in the basil and flavour with salt and pepper as needed.
Serve hot.
Nutritional Benefits of Ingredients:-
Samak Rice
Low in starch, low in calories
Rich in dietary fibre
Low glycaemic index-0 suitable for Diabetics
Good source of iron
Fair source of protein
Gluten free
Kala Chana (Bengal Gram)
Rich source of plant protein
Promotes muscle mass
Rich in dietary fibre'
Contains iron and folate
Excellent for diabetics
Tomato
Rich in lycopene- an antioxidant that boosts immunity
Reduces risk of heart diseases
Rich in Vitamin C for healthy immune system
Provides hydration and keeps constipation at bay
Zucchini/ Summer Squash
Ample amounts of Vitamin A and Vitamin C
Contains powerful antioxidants
Contributes to healthy digestion
Contains gut friendly fibre
Reduces high blood sugar levels
Aids in weight management
Red Bell Pepper
Excellent source of Vitamin C
Supports healthy vision as it is rich in Vitamin A
Packed with antioxidants
Contains lycopene that supports heart health
Basil
Anti-inflammatory
Supports healthy liver function
Helps in managing high blood sugar levels
Aids in digestion
Footnote
It can be counted as comfort food as the recipe is free of cholesterol and hence, is a great option for maintaining a healthy weight. Personalize the dish by adding other healthy vegetables of your choice.