Ragi Ladoo
By Nmami Agarwal 19-Feb 2020 Reading Time: 2 Mins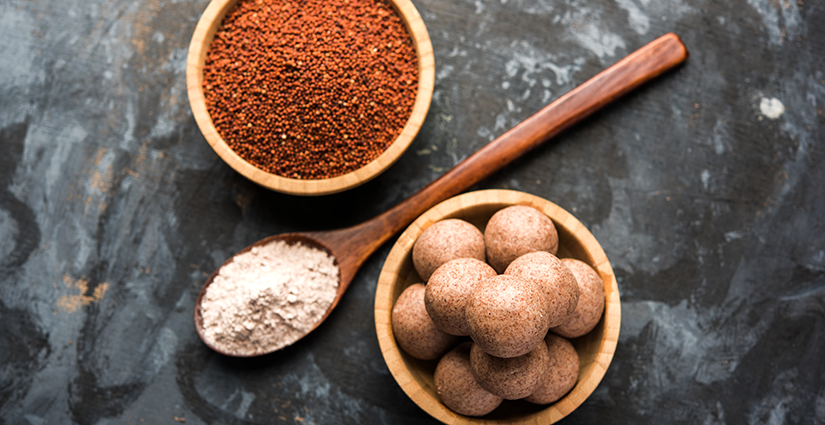 Ragi ladoos are a great option for healthy snacking for kids and grown-ups. This recipe yields the tastiest ragi ladoos.
Nutritional Benefits
Ragi: Ragi flour is the best non-dairy source of calcium. Just 100 grams of ragi contains 344 mg of calcium. Consuming ragi reduces the risk of osteoporosis. Also, ragi is abundant in polyphenols and dietary fiber. The presence of fiber helps to maintain blood glucose levels and prevents hyperglycemia in Diabetic individuals.
Peanuts: Peanuts have a strong nutritional profile. They are an excellent source of plant-based protein, fiber, and many important vitamins and minerals. Although being high in calories, peanuts are low in carbohydrates.
Ingredients
50 grams ragi flour
10 grams sesame seeds
10 grams peanuts
2 cardamoms
5 grams coconut sugar
1 teaspoon coconut oil
Method
Heat 1 teaspoon of oil and fry the flour on low heat till you get a nice aroma of ragi. Set this aside to cool.
Dry roast peanuts, cool and remove the skin.
Roast sesame seeds and let them cool.
Powder together peanuts, sesame seeds, and cardamoms.
In a large bowl, mix the blended powder, flour, and coconut sugar.
Blend for about 1 to 2 minutes for the oil to ooze out from the mix. Make balls while the mix is still warm.
Store ragi ladoos in an airtight container.
Over to you
These ladoos offer a great taste and goodness of many important nutrients required by the body. So, do make this healthy snack for your kids.