Zucchini Sushi
By Nmami Agarwal 06-Sep 2020 Reading Time: 2 Mins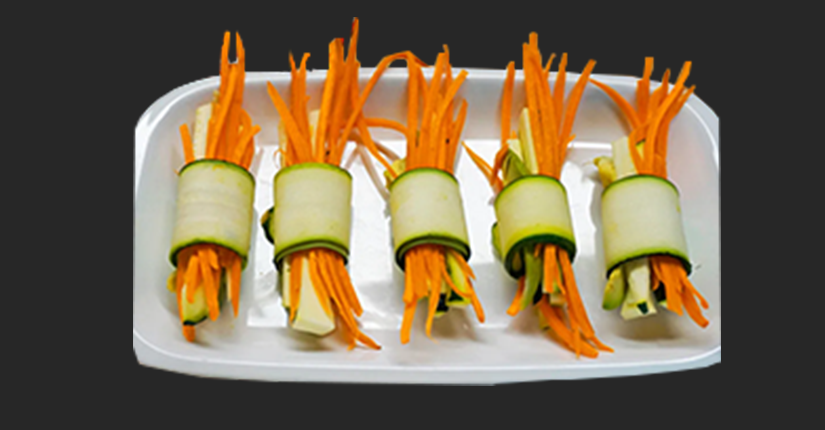 Thinking about a healthy yet delicious snack to munch on? Try these zucchini sushi rolls which are an awesome way to satisfy your cravings. They are healthy and easy to prepare combined with the goodness of vegetables to offer you with amazing taste and ample benefits.
Nutritional Benefits:
Avocados are rich in various nutrients such as potassium, folate and vitamin C. It consists of considerable amount of protein and is rich in fat and fibre. Zucchini is a low-calorie vegetable which is full of antioxidants and is high in potassium.
Per Serving:

Nutrition Info
Amount
Calories
115.5 kcal
Carbs
16.1 grams
Protein
2.3 grams
Fats
7.4 grams
Ingredients:
50 grams zucchini
20 grams sliced carrots
10 grams sliced avocados
20 grams cucumber
5 grams low fat cream
5 grams parmesan cheese
5 grams sesame seeds
1 teaspoon lemon juice
Salt and pepper as per taste
Method:
Thinly slice zucchini lengthwise with the help of mandolin.
Take a bowl and combine cream, lemon juice and cheese.
Now on a cutting board, lay the zucchini slices and top it put a thin layer of cream mixture.
Top it with avocado, carrots and cucumber.
Roll up tightly and sprinkle the sesame seeds.
Serve.
Over to you:
Try this super amazing, low calorie delicious dish and have a healthy and guiltfree snacking.