Healthy Fish Nuggets
By Nmami Agarwal 25-Jan 2020 Reading Time: 3 Mins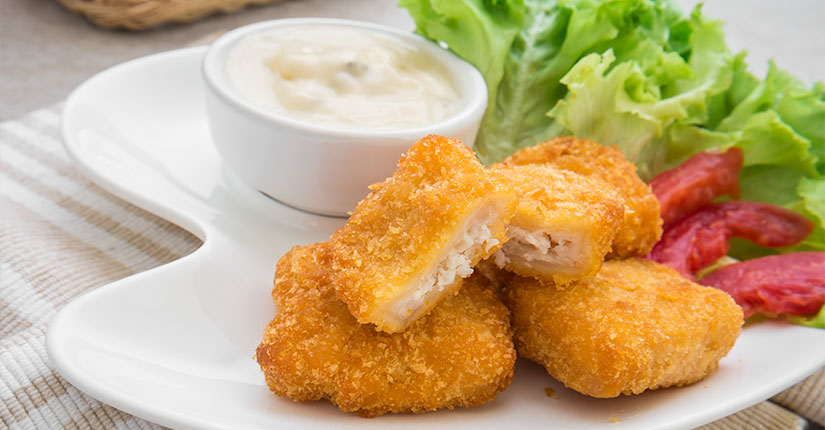 These Healthy Fish Nuggets are a kids-friendly recipe and are super delicious. They give us another reason to enjoy salmon this winter.
Nutritional Benefits
Salmon: The true beauty of salmon is its wealth of omega-3 fatty acids. Most omega-3s are "essential" fatty acids. Your body can't make them, but they play critical roles in your body. They can lower the chance of diseases like cardiovascular disease (including heart attack and stroke),some types of cancer, dementia, Alzheimer's and other cognitive diseases. They can also ease the effects of rheumatoid arthritis.
Eggs: Apart from providing an optimum protein quality, eggs are rich in several nutrients that promote heart health, such as betaine and choline. choline is essential for normal brain development. Eggs are a useful source of vitamin D, which helps to protect bones and prevent osteoporosis and rickets.
Ingredients
50 grams Salmon
10 grams whole wheat flour
Salt as per taste
½ teaspoon freshly ground black pepper
1 egg
5 grams bread crumbs
Nutritional Value
Nutrition Info
Amount
Calories
181 kcal
Carbs
11.1 grams
Protein
17.5 grams
Fats
7.0 grams
Method
Preheat oven to 450F. Line a large baking sheet with parchment paper.
Rinse the salmon fillet and pat dry with paper towels. Slice it 1″ thick pieces. To make nuggets, slice horizontally right over the skin and vertically every 1/2″.
Place the flour, salt, and pepper in a medium bowl. Stir to combine.
In a separate medium bowl, whisk the egg.
Coat the salmon pieces in the seasoned flour and pat to remove any extra flour. Dip into the eggs and then the bread crumbs, gently pressing the mixture into the fish.
Place the breaded salmon fillets onto the baking sheets. Drizzle lightly with olive oil and bake for 15 to 20 minutes or until crispy and golden brown.
Over to You
Incorporate these yummy nuggets in your kid's tiffin this winter and give them a boost of essential nutrients and taste.