Makar Sankranti Treats: Traditional Flavours From Different Parts of India
By Nmami Agarwal 14-Jan 2022 Reading Time: 4 Mins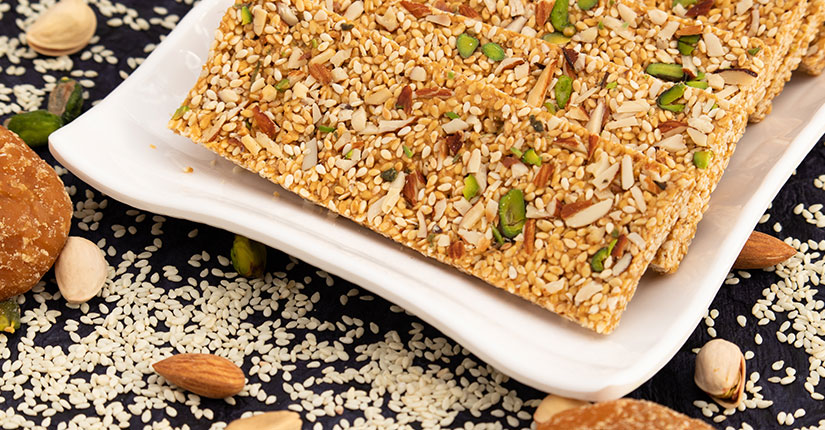 Makar Sankranti marks the beginning of the festival season in India.
Makar Sankranti's date is decided from the calendar during the celestial position of the Sun. during the movement of the sun, on this day, it enters into the new zodiac sign, Capricorn. Capricorn in Sanskrit means Makara. Sankranti stands for the movement of the Sun. Therefore, the Makar Sankranti is the day when the Sun travels into the new zodiac Capricorn.
Another significance behind Makar Sankranti is that it also marks the starting of the harvest festival.
Some integral food items of Makar Sankranti are-
1 -Sugarcane
Sugarcane reap is harvested and turned into jaggery, which is why both these items hold importance in the festival.
Sugarcane provides glucose to the body and is one of the best natural sources of energy. It can also work as a laxative and is good for digestion.
2- Jaggery
Made of sugarcane, almost all sweets in the festival are made of jaggery. It is known to be a rich source of iron, potassium, and magnesium. It is also good for anemic people since it helps in increasing the level of hemoglobin. It is also good for water retention problems. It is good for asthma patients and has an anti-allergen property. Jaggery works towards reducing premature aging as well. It helps in reducing tiredness and helps relax the muscles, nerves, and vessels.
3- Til Gud Laddoos
Made of sesame and jaggery, this is a must-try sweet of the festival. Sweets are shared to let go of ill feelings and humbly accept each other, promoting friendship and brotherhood.
Sesame seeds-
They are a good source of protein. They have a high level of zinc in them which makes is responsible for collagen building and therefore improving the texture of the skin, and giving it a glow. Zinc increases bone mineral density as well. Sesame seeds are good for the heart as well, the oil prevents atherosclerotic lesions, and has anti-oxidant and anti-inflammatory properties. It prevents osteoporosis and enhances bone health. It consists of a high level of calcium.
But you should restrict from consuming too many laddoos.
4- Chikki
They are mostly made of peanuts and jaggery and are known to be popular amongst tourists in Lonavala, Khandala, etc.
Peanuts-
They are a great source of energy. It is a good source of growth and development of the body. It is high in concentration of anti-oxidants and protects the skin with vitamin E. Peanuts consist of mono-unsaturated fatty acids, that help in the reduction of bad cholesterol and increase good cholesterol. They help in blood flow and are a storehouse of vitamins like riboflavin and niacin, thiamine, vitamin b6, b9, and pantothenic acid, etc.
Therefore, this Makar Sankranti, eat in moderation and have a healthy celebration of Makar Sankranti. Try and not go overboard with the sweets and avoid putting on extra calories.