Til Laddoo
By Nmami Agarwal 14-Jan 2022 Reading Time: 2 Mins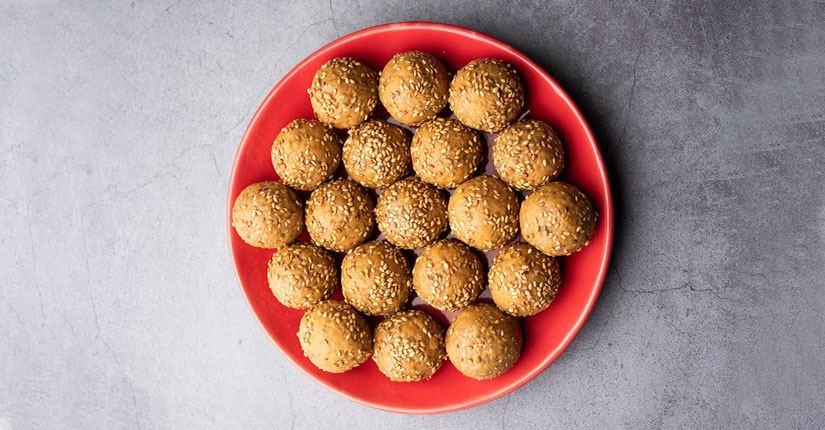 Til Ladoo is the perfect munching and is great to relieve sugar cravings. It has a great combination of a sesame seed with sweet Jaggery to treat the taste buds. These magic ingredients activate the digestive enzymes and are good in calcium and are very easy to prepare. It is one of the easiest ways to keep oneself warm during winters.
Nutritional benefits:
Sesame seeds are a great source of calcium that helps the bones to remain strong; the lignans present in the seeds help in lowering cholesterol. Jaggery aids in digestion and cleanses the whole body and prevents anemia.
Ingredients:
10 grams Jaggery
15 grams sesame seed
1 cardamom
1 teaspoon ghee
50ml water
Calorie Count
Calorie
165 Kcal
Protein
2.5 grams
Carbohydrates
13.8 grams
Fat
12 grams
Method:
Start by dry roasting the sesame seeds in a pan on low flame until the color changes to brown. Keep aside to allow it to cool completely.
In another pan add in the Jaggery and water to prepare jaggery syrup.
Now add the jaggery syrup to the sesame seeds; add ghee and cardamom and mix well.
Form in the shape of laddus and store in an airtight container
Over to you:
These are the perfect snacks to grab on and can be eaten as snacks to cover the hunger and are a great and healthier option to grab on as munching.