Kidney Bean Chilli
By Nmami Agarwal 07-Mar 2022 Reading Time: 2 Mins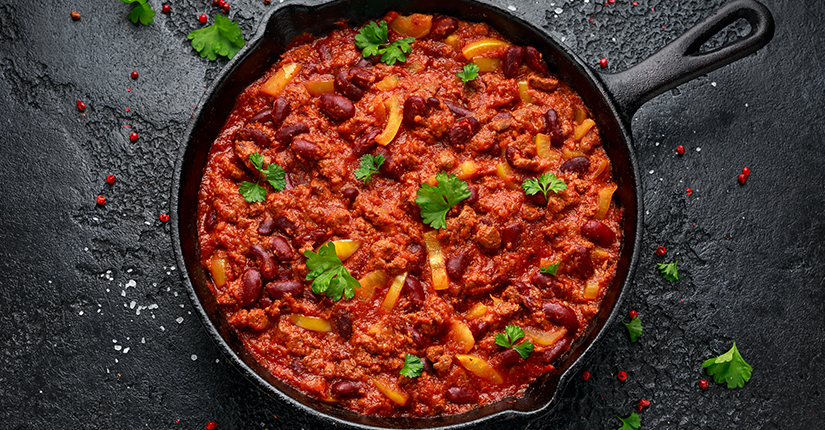 Kidney Bean Chilli is one dish that is relished by people of every age group. May it be kids or adult, all love to have kidney beans. So, without further delay lets know how to make this delicious recipe.
Nutritional Benefits
Kidney beans: Kidney beans contain a hearty mix of both soluble and insoluble fiber. Fiber helps to promote good digestive health and bowel regularity. Soluble fiber attracts water and turns it into a gel during digestion. While we all know that soluble fibers help promoting digestion but not many know that they also help lower "unhealthy" (LDL) cholesterol. Kidney beans are high in blood building iron, phosphorous – which plays a crucial role in healthy bones and teeth – and vitamin K that helps protect the nervous system from free radical damage.
Ingredients
20 grams Rajma/ kidney beans, soaked overnight
20 grams onion
20 grams tomato
10 grams beans
10 grams bellpeppers
10 grams corns
1/2 teaspoon red Chili powder
1/2 teaspoon black pepper
1 teaspoon olive oil
Salt to taste
Calorie Count
Calorie
135.5 kcal
Protein
8.5 grams
Carbohydrates
16.5 grams
Fat
7.5 grams
Method:
Pressure cook Rajma until cooked.
Heat oil in the pan. Then add finely chopped onions and fry then until golden brown.
Then add chopped tomatoes,bellpeppers,corn and bean followed by all the spices.
Now add boiled rajma to this mixture with little water and mix well.
Cook covered for 5-8 minutes on a low flame, stirring occasionally.
Serve hot.
Over to you
Kidney Bean Chilli is an interesting recipe and easy to prepare. Enjoy your favourite kidney beans at any meal.