Grilled Chicken with Spinach & Pesto
By Nmami Agarwal 02-Mar 2021 Reading Time: 2 Mins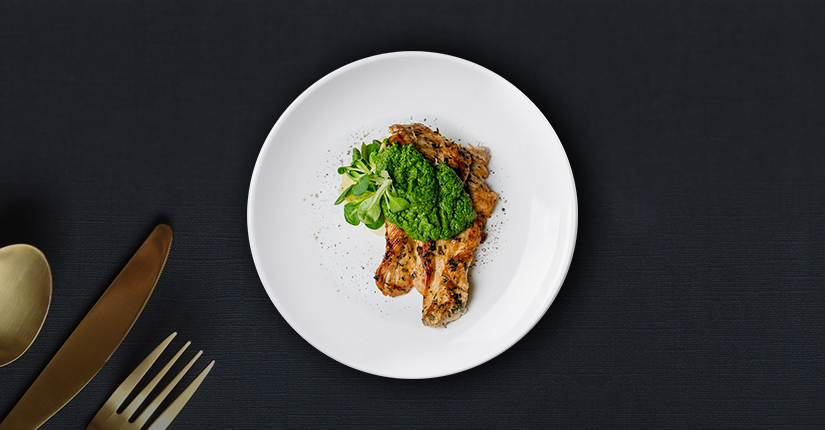 Grilled Chicken with spinach and pesto is an amazing dish to try upon for all those chicken lovers out there. It is filled with goodness of chicken, healthy spinach and delicious pesto sauce.
Nutritional Benefits
Chicken is highly rich in protein and omega -3 fatty acids which helps in building up muscle mass. It is also rich in selenium, phosphorus, vitamin b6 and niacin whereas spinach is an excellent source of Vitamin A, Vitamin K, Vitamin C and folate and also is a fair source of manganese, magnesium, iron and vitamin B2.
Ingredients
50 grams chicken
20 grams finely chopped spinach
2 cloves garlic
1 teaspoon basil pesto
½ teaspoon lemon juice
salt as per taste
Freshly ground black pepper
1 teaspoon olive oil
Per Serving:

Nutrition Info
Amount
Calories
172 kcal
Carbs
2.7 grams
Protein
14 grams
Fats
11.3 grams
Method
In a small bowl, combine oil, half the lemon juice, salt, pepper, and whisk to combine.
Coat the chicken breast thoroughly with the mixture.
Heat grill over medium-high then add chicken, discarding excess marinade. Grill until charred and cooked to an internal temperature of 165°, about 5 to 7 minutes per side.
Then, Mix finely chopped spinach, finely chopped garlic, 1 Teaspoon pesto sauce and remaining lemon juice, and season with salt and pepper.
Once the chicken is done, top chicken with spinach pesto mixture.
Serve hot.
Over to You
Grilled Chicken with Spinach & Pesto is a healthy option to include chicken in your diet. So, don't forget to try your hands on this simple and delicious recipe.