6 Foods to Obtain Hydration From in Addition to Water
By Nmami Agarwal 10-Jun 2020 Reading Time: 6 Mins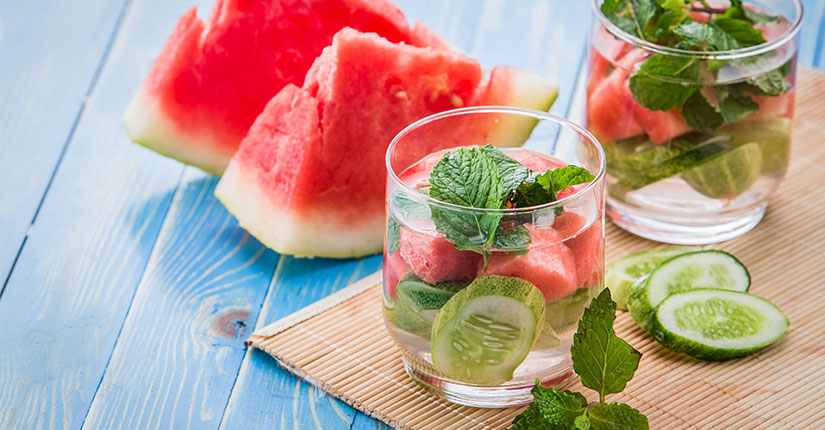 Appropriate hydration is the key to good health! Proper hydration on a regular basis is as important as eating a healthy meal. To ensure that your efforts of working out and eating healthily should not go in vain, it is extremely important to keep yourself hydrated. Not consuming enough quantities of water can make you dehydrate while increasing the risk of various health problems like headaches, fatigue, low blood pressure, low energy levels and various skin problems. Whereas, proper hydration levels can help you in flushing out the toxins from the body, helps you in losing weight and make your skin healthy and supple.
In addition to water, you can maintain your hydration levels by adding certain foods in your diet. Yes, it's true! Various foods are rich in water content and can easily hydrate and refresh you in no time.
Here is a list of foods that are rich in water content and can help you in staying hydrated.
Cucumber: Cucumber is a natural cooler and is packed with great water content. 95% of cucumber is water and it can hydrate you in just a few minutes. Cucumber also contains various nutrients like Vitamin K, potassium and magnesium and can easily make you cool and refresh. You can add it in your raita, salads and sandwiches to enhance its taste. Don't forget to sprinkle your favourite herbs and spices over it.
Watermelon: All in all, 92% part of the watermelon is water. It is extremely healthy and luscious and with its nutritional profile, you should definitely add watermelon in your diet. Watermelon is packed with various nutrients like magnesium, Vitamin A, C and antioxidants which is quite beneficial for your overall health and well-being. As watermelon is extremely low in calories, it can help you in maintaining weight and reduce the risk of developing chronic illnesses.
Strawberries: Another water-rich food is strawberries. 91% of strawberry is water and its regular consumption can never make you feel dehydrated. Moreover, it is packed with fibre, Vitamin C and antioxidants which help in decreasing inflammation while keeping the diseases at bay. You can blend strawberries into smoothies, shakes or add it over your oatmeals and cereals.
Tomatoes: Tomatoes are 94% of water. With their great nutritional content, plentiful of health benefits and unique taste, no one can ever say no to them. Tomatoes contain Vitamin A, Vitamin C and a great number of antioxidants which can easily give a great boost to your immune system while making your dishes taste luscious. You can make sauces from tomatoes, add it in your sandwiches and salads, make cold or hot soups, and blend it in your other dishes as well.
Zucchini: Zucchini holds 90% of water inside it and it is extremely nutritious and due to its fibre content, it can make you feel fuller for a longer period of time. You can add it in your salads, sautéed vegetables, soups and noodles. It is rich in essential vitamins and minerals and reduces the risk of various diseases as well.
Grapefruit: We all love the sweet taste of grapefruits! This healthy fruit not only tastes delicious but can also provide ample health benefits to the human body. Grapes contain great water content and are rich in fibre, Vitamin A, C, antioxidants and other essential vitamins and minerals which can make you hale and hearty. You can make smoothies from it, eat it raw by adding black salt over it or add it in your salads as well.
Over to you
If you won't be able to drink enough water due to its taste, then you can add these foods in your diet to add up to your hydration levels. But always remember that these foods are not a substitute for water.