Quinoa Upma
By Nmami Agarwal 06-Jan 2020 Reading Time: 2 Mins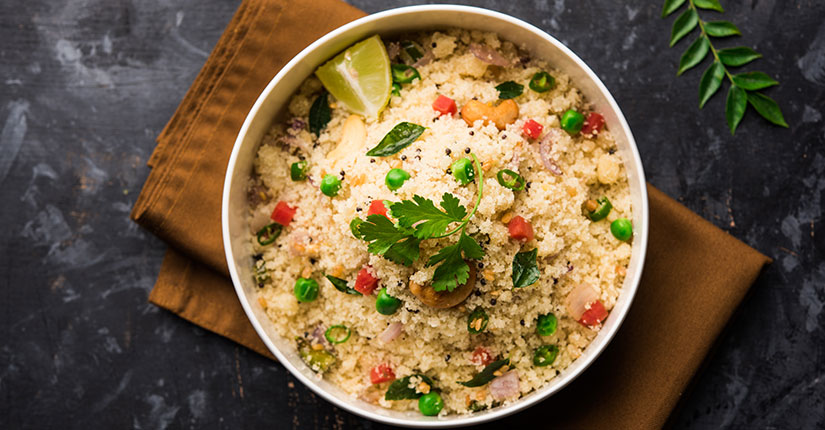 This variation of upma is loaded with the goodness of quinoa and vegetables. Apart from great taste, quinoa upma is very filling and nutritious.
Nutritional Benefits
Quinoa: Quinoa is very high in fiber. It is naturally gluten-free. Using quinoa instead of other gluten-free ingredients helps to load your meals with antioxidants, fiber, and flavonoids including quercetin and kaempferol. Also, quinoa is an exceptional protein source because it contains all essential amino acids.
Ingredients
20 grams quinoa
10 grams onions
20 grams green peas
10 grams carrot
4 curry leaves
1 teaspoon peanuts
½ teaspoon mustard seeds
A pinch of asafetida (hing)
1 green chili (optional)
½ teaspoon ginger
1 teaspoon olive oil
Salt to taste
5 grams chopped coriander
1 teaspoon lemon juice
Nutritional Value
Nutrition Info
Amount
Calories
165 kcal
Carbs
18.9 grams
Protein
5.0 grams
Fats
8.2 grams
Method
Finely chop all the vegetables.
In a pan, heat the oil and add mustard seeds and asafoetida. Saute on a medium flame for a few seconds.
Add ginger, green chilies, and curry leaves and sauté on a medium flame for a few minutes.
Add the peanuts and cook for another few minutes till the peanuts are light brown.
Add onions, carrot, and peas and sauté for some time.
Now, add quinoa and keep mixing for a few minutes.
Add chili powder, salt, and 1 cup of hot water. Mix well and cover with a lid and cook on a medium flame for 20 minutes while stirring occasionally.
Switch off the flame; add the coriander leaves and lemon juice. Mix well
Serve hot
Over to You
Give your regular breakfast a healthy twist and enjoy this delicious quinoa upma. It is quick to make and an ideal breakfast for weekday mornings.