BUCKWHEAT(KUTTU) DHOKLA
By Nmami Agarwal 25-Mar 2023 Reading Time: 2 Mins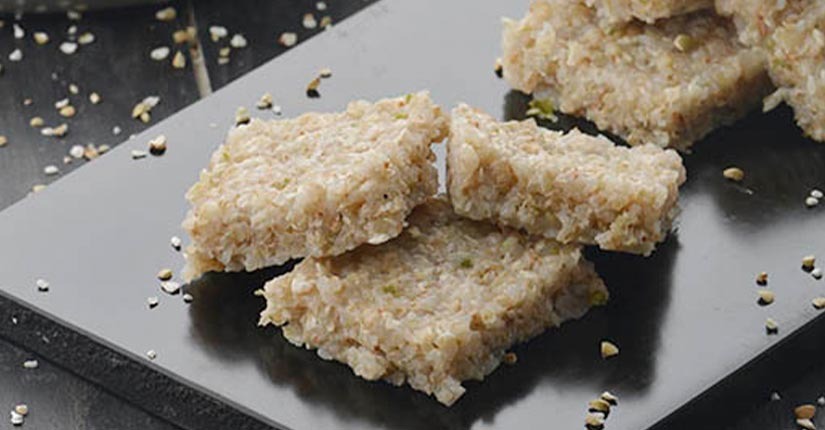 If you are looking out for a gluten free recipe, buckwheat is the millet you can rely upon. Its versatility makes it a good option for diabetics, people with anaemia,cancer etc. It has a good amino acid profile and good fibre content thus helpful for obese individuals.Buckwheat is neuroprotective,helps in reduction of cholesterol levels, is anti-inflammatory and so on.
Considering the host of benefits above,one must try this recipe.It can be had as a breakfast or a snack option.
Ingredients:
1.
1 ¼ cups buckwheat (kutu)
3.
1 tsp green chilli paste
Method
1.
Clean and wash the buckwheat in enough water only once.Washing it more will cause the starch to drain out.
2.
Drain the excess water using a strainer.
3.
Combine the buckwheat,curds and ½ cup water in a deep bowl and mix well. Cover with a lid and keep aside for at least 4-5 hours.
4.
Add the green chilli paste,ginger paste and salt and mix very well.
5.
Pour half the batter into a greased 175mm (7") diameter thali and spread evenly by rotating the thali clockwise.
6.
Steam in a steamer for 10-12 minutes or till the dhoklas are cooked.
7.
Repeat steps 5 and 6 to make 1 more thali.
8.
Cool slightly,cut into pieces and serve immediately.
Nutritive value per serving: