Sweet Potato Skillet
By Nmami Agarwal 10-Jun 2020 Reading Time: 2 Mins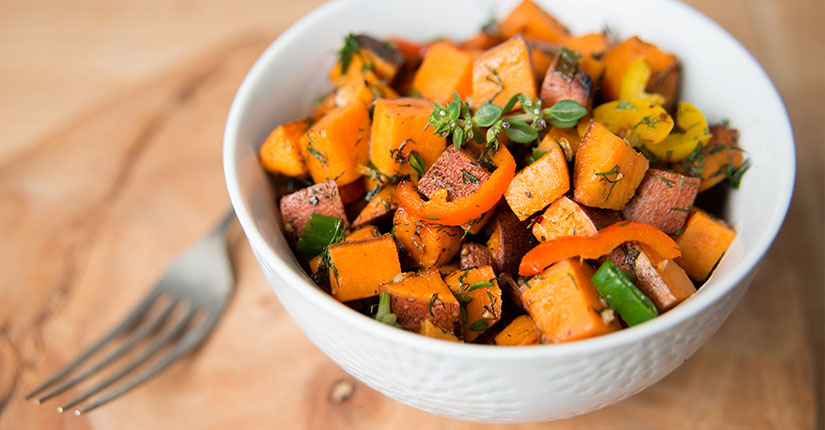 Sweet Potato Skillet is a snack which is a perfect treat to your taste buds. It is easy to prepare yet nutritious to try your hands upon.
Nutritional benefits
Sweet potato – Sweet potatoes are a healthy option instead of potatoes. They are rich in fiber, vitamin A, potassium and many other nutrients.
Ingredients
1 Medium sweet potato
1 teaspoon of lime juice
20 grams tomato
20 grams bell peppers
20 grams onion, finely diced (about 1 cup diced)
5 grams Avocado
10 grams black beans , drained and rinsed
1-2 sprigs of chopped cilantro
1/4 teaspoon of garlic powder
1/4 teaspoon of onion powder
1/4 teaspoon of cumin
1 teaspoon olive oil
Salt and black pepper to taste
Per Serving:

Nutrition Info
Amount
Calories
146.6 kcal
Carbs
24.7 grams
Protein
6.2 grams
Fats
2.4 grams
Method
Firstly, take a large deep skillet on medium heat and put little oil.
Later, add all the vegetables such as onion, garlic, bell pepper and cook for another 3 minutes. Don't forget to stir.
Now add black beans and diced tomatoes and allow it to boil on a low flame for 10-15 minutes.
Switch off the flame and garnish with avocado, and cilantro
Serve hot.
Over to you
So, try this healthy and filling dish, which will satisfy your taste buds along with providing you with essential nutrients.