Spicy Garlic Mushrooms
By Nmami Agarwal 16-Nov 2020 Reading Time: 2 Mins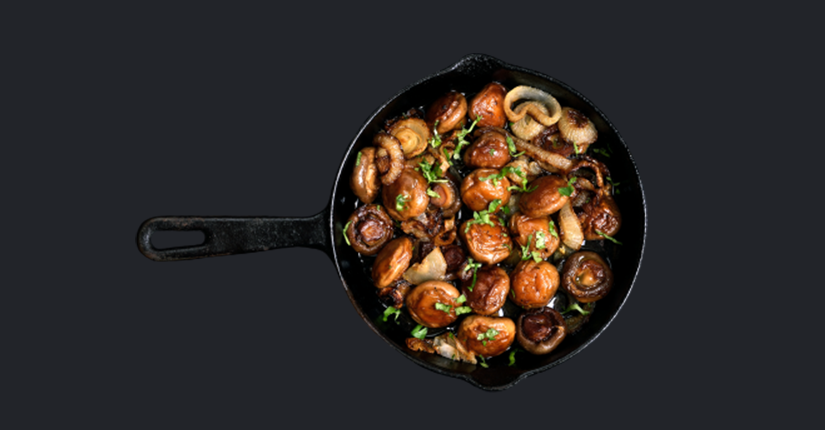 These spicy mushroom sauté in Indian style garlic sauce are incredibly delicious and are prepared using few ingredients. They can be used as starters for the parties or can be eaten as side dishes during the main course meal. They are best served with rice, noodles or bread.
Nutritional value:
Mushrooms are good source of selenium that helps in heart diseases and thyroid problems. The dietary fiber in the mushrooms helps in managing diabetes. Garlic on the other side have medicinal properties and help combat sickness like common cold as well as improves the cholesterol levels.
Ingredients:
20 grams mushroom
10 gram onion
1 teaspoon of cumin seeds
1 teaspoon of oil
5-6 garlic cloves
1 dried red chilli
¾ teaspoon vinegar
Salt to taste
¼ teaspoon red chilli powder
½ teaspoon Jaggery powder
Per Serving:

Nutrition Info
Amount
Calories
65 kcal
Carbs
8.6 grams
Protein
1.6 grams
Fats
3.1 grams
Method:
Start by preparing the garlic sauce. In a blender add in the garlic, vinegar, Jaggery, red chilli, salt and red chilli powder. Add 1-2 teaspoon of water and blend to prepare a paste.
Take some oil in a skillet and add cumin seeds to splutter.
Then add in the onions and let them sauté till they change their colour.
Meanwhile cut the mushroom into slices and add garlic sauce in the skillet. Make sure it does not get burned.
Sautee the garlic sauce for some time and add in the mushrooms.
Cover the skillet and sauté for 3-4 minutes.
After that transfer them to a serving plate and garnish with coriander leaves.
Over to you:
These spicy garlic mushrooms are a delicious add on in the diets. Try this recipe and enjoy the creamy flavour of mushroom with the garlicky touch.