Has Khichdi Become a Regular Part of your Lockdown Meal? Explore Some Ways to Make it More Appetising
By Nmami Life Editorial 29-Aug 2020 Reading Time: 4 Mins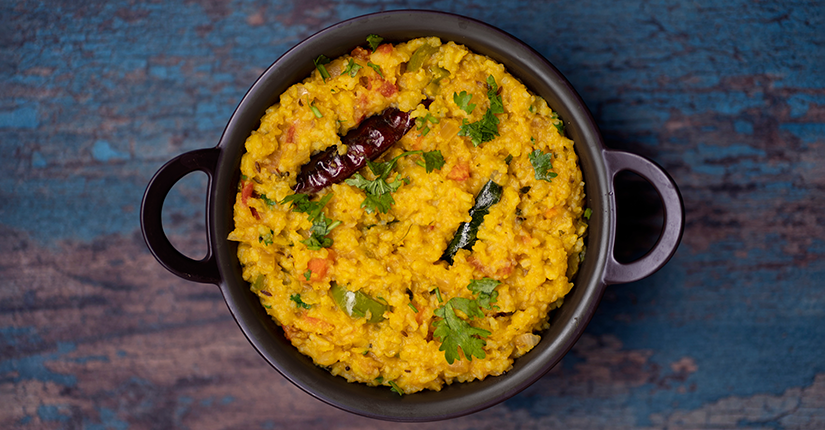 Khichdi has become a comfort food and a regular part of the diet during lockdown for many people. This mix of rice and pulses is well known for its various advantages and can nourish your health like no other. Khichdi is the nation's very own comfort food and it can easily be prepared in just a few minutes. To relish the new and unique taste of Khichdi and to make it more nutritious, here are some easy ways that you should definitely try at home. These effortless ways will definitely aid in making your Khichdi healthier and flavoursome. 
The grains and lentils mixture:

Khichdi generally consist of the yellowish moong dal and rice but to make it more appetising you can twist it by incorporating more grains and lentils to it. You can add green gram, chickpeas, and kidney beans in your Khichdi. These lentils and beans are filled with various nutrients and promote satiety while fuelling up your energy levels.

The vegetable twist:

Break the monotony of the boring and bland Khichdi by adding plenty of green veggies in it. Veggies like peas, cauliflowers, cabbage, carrots, capsicum, beans and spinach can easily be blended with the Khichdi and make it healthier, delicious and filling. All you have to do is just stir fry your favourite veggies in ghee and add rice and dal and cook it just like your regular Khichdi.

The nutty top-ups: Pulao Shahi is cooked with plenty of dry fruits and it tastes delicious. Let's inspire from that dish and give a twist of nuts to the Khichdi. Nuts contain omega 3 fatty acids and other heart-healthy nutrients that are extremely beneficial for the health. And combining it with the boring Khichdi can give it a perfect crunch and unique flavour by enhancing its nutritional profile. All you have to do is just sauté some rice and dal in some ghee and mix the nuts of your own choice. You can add almonds, pistachios, walnuts, cashews and cook it just like your regular Khichdi.
The oats blend: Oats is another versatile ingredient that can make your Khichdi delicious while enriching it with the dietary fibre and other vital nutrients. Oats Khichdi is a great way to add a unique zest and flavour to your rice and Dal Khichdi. You can also add various other grains in your Khichdi to make it more healthy and tasty. Serve this oat Khichdi with home-made raita and enjoy every bite of this soothing dish.    
Footnote
Give a delicious and healthy twist to your Khichdi by trying these above-written tricks. These healthy makeovers to the Khichdi can nourish you with the goodness of heart-healthy nutrients by making it more delightful.