Flavours of world: Indonesian cuisine
By Nmami Agarwal 26-Mar 2021 Reading Time: 5 Mins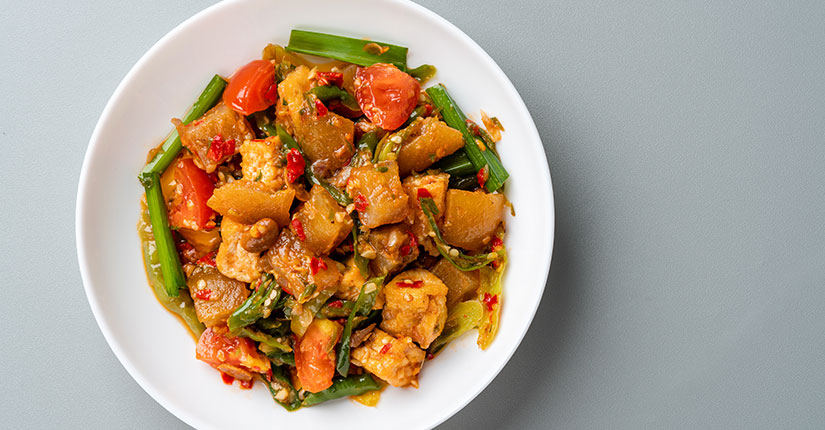 Indonesian food is packed with intense flavours and due to this, it is considered as one of the most fascinating and colourful cuisines in the world. In the archaic period, many countries like Indian, Chinese, Arab and Portuguese influenced the Indonesian cuisine and left its stamp on it. With various alterations and moderations, Indonesian cuisine has now become one of the most loved cuisines worldwide.
Way back and Uniqueness
Indonesia is one of the largest populated islands in the world's largest archipelago (a group of islands) and that is why Indonesian cuisine is diverse and shows a great deal of variety. The region is one of the biggest factors for the variation of this cuisine. Due to its location and achievement in natural resources, Indonesia has been greatly involved in trade with other countries and that is being one of the main reasons for influenced cooking techniques and ingredients. Native Spices, such as cloves and nutmeg were introduced by the Indonesian Islands.
Rich yet subtle, complex yet elegant is the perfect definition of the taste of Indonesia. With the heat of chilli and the sour crunch of pickles, Indonesian cuisines are so marvellous and tasty that it can give a "kick start" to anyone's mood. Rice, sambal and pickles are some of the most preferred food in Indonesia.
Sweet and sour ingredients like sweet soy sauce, tamarind, and the aroma of shallots lemongrass and lime leaves are used to give intense notes and flavour in Indonesian food. Indonesian cuisine is well known for an abundance of tropical fruits, vegetables and various types of spices. It is no wrong to say that dried spices and fresh herbs are the best part of this cuisine. Dried spices such as coriander seeds, cardamom pods, cumin seeds and cloves are used every day in dishes. Food in Indonesia is all about making the most of the best herbs and spices with various variations and mixture.
The rich flavours
Sambhal: Sambal is a sauce based on chillies and found almost on every table in Indonesia. Sambal is the main attraction of Indonesia and is perfect and delicious when served with any dish.
Nasi Goreng: Nasi goreng is known as the national dish of Indonesia. This dish is the mixture of fried rice, spices, meat pieces and vegetables. The aromatic and smoky flavours make it the topped dish in the list of Indonesian cuisine.
Bakso: Bakso is a type of soup that is loved by almost everyone in Indonesia. This savoury meatball noodle soup is tasty, healthy and delicious and is widely found in every second street.
Gado-gado: Gado-gado is one of the most loved vegetable salads on the table of Indonesians. The mixture of vegetables such as cabbage and bitter melon together with fried tofu and tempeh make it healthy and nutritious. This salad is basically served with spicy peanut sauce dressing.
Nasi Uduk: This is one of the most iconic dishes of Indonesia. Nasi uduk is basically rice cooked in coconut milk. The flavours in this dish can easily take the heart away and that's why it is one of the most loved dishes of Indonesia.