Mint Coriander Rice
By Nmami Agarwal 17-Nov 2020 Reading Time: 2 Mins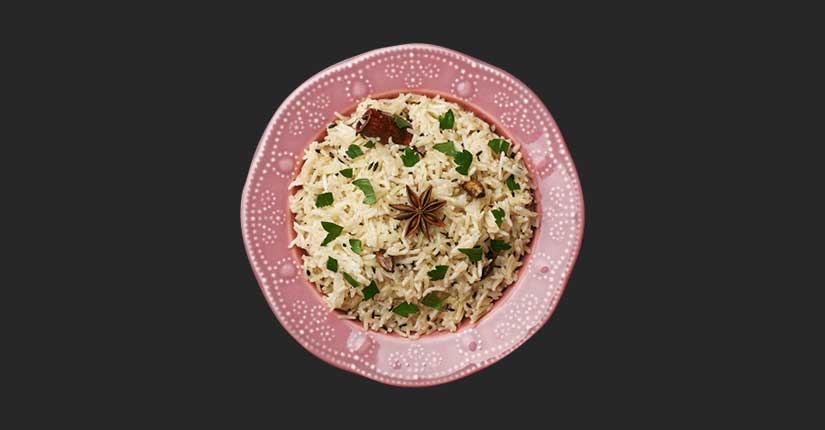 Mint coriander rice is a simple yet delicious dish which is made with the goodness of mint and rice. It is a perfect dish to be tried upon and relish the bundles of nutrition along with amazing taste. This delicious south indian recipe has a refreshing mint flavour that relishes the taste buds.
Nutritional Benefits:
Rice serves as the instant source of energy. They are rich source of carbohydrates and a fair source of protein. Mint is used as a refresher that helps in improving irritable bowel syndrome and helps in reliving indigestion.
Ingredients:
15 grams rice
10 gram mint
10 gram coriander
3-4 garlic cloves
5 grams ginger
5 grams coconut
10 grams mixed vegetable
10 grams onion
½ teaspoon lemon juice
2-3 green chilies
1 teaspoon black pepper
1 bay leaf
1-2 green cardamom
¼ teaspoon turmeric powder
1/2 teaspoon cumin seeds
1 inch cinnamon
1-2 cloves
Salt as per taste
1 teaspoon olive oil
Per Serving:

Nutrition Info
Amount
Calories
117 kcal
Carbs
14.6 grams
Protein
2.3 grams
Fats
6.3 grams
Method:
Start by washing the rice properly and soaking in for 15-20 minutes
Take a grinder and add in the mint, coriander, green chilli, ginger, garlic, coconut and grind to make a smooth paste.
Heat some oil in a skillet and add bay leaf, cumin, cloves, cardamom and cinnamon.
Sautee them for few minutes. Add in the spices
Add in the onion to sautee till they are golden brown.
Then add in the mixed vegetables with little water and sautee for 2-3 minutes.
Let it boil once and then add in the rice.
Let it cook until the water evaporates.
Serve hot.
Over to you:
Relish this light and easy recipe of mint coriander rice in your dinner or lunch time.