Grilled chicken with brussels sprouts and quinoa
By Nmami Agarwal 03-Jan 2020 Reading Time: 3 Mins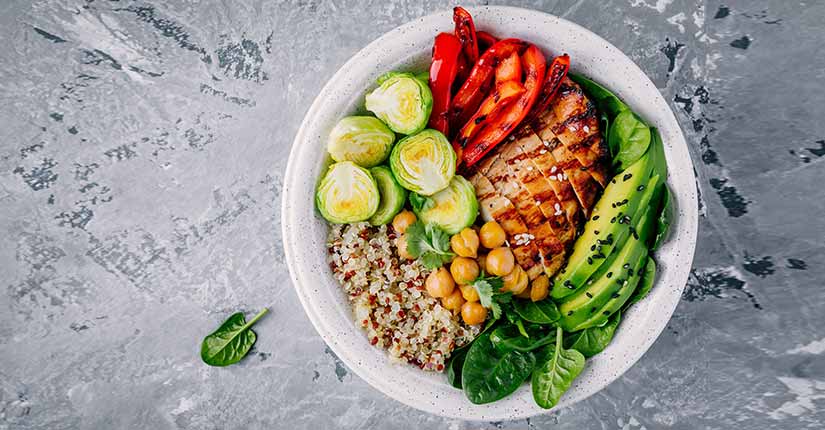 This simple to prepare recipe with great flavours is perfect for the cold winter days. This plate of nutrition is a great combination of flavours and is perfect for the happy weekends or to get that protein punch.
Nutritional benefits: Quinoa is highly nutritious and is a great source of protein. It is high in fiber, iron and magnesium and has low glycaemic index. It lowers blood sugar levels and is good for people with celiac disease. Brussels sprouts are rich in Vitamin K and Vitamin C that promotes heart health and boosts immunity. Chicken breast is a great source of low fat protein that helps to build muscle and has various other benefits.
Ingredients:
10 grams brussels sprouts
10 grams quinoa
10 grams tomato
10 grams onion
1 teaspoon italian parsley or oregano
5 grams fennel bulb (if available)
1 teaspoon olive oil
½ teaspoon salt
½ teaspoon black pepper powder
30 grams chicken breast
10 grams garlic
1 teaspoon lemon juice
Nutritional Value
Nutrition Info
Amount
Calories
157 kcal
Carbs
10.8 grams
Protein
11 grams
Fats
7.9 grams
Method:
Preheat the oven at 350-400ºF.
Take a bowl and combine the Brussels sprouts, olive oil, salt, pepper and oregano. Mix it well and spread on a baking sheet to bake for about 25-30 minutes.
In a separate bowl add the chicken, salt, pepper, oregano, lemon juice, garlic and some oil to marinate it for 15-20 minutes.
Grill the chicken for about 10-15 minutes.
Take a pressure cooker; add some oil and sauté onion, remaining garlic, tomatoes, fennel bulb and quinoa.
Add in some water and let it cook for 15-20 minutes.
Take a serving plate add; grilled chicken, baked brussels sprouts mixture and quinoa. Garnish with coriander leaves and mint yogurt dip!
Over to you: This is the delicious and flavourful bowl of protein that gives you a punch of nutrition. This perfect combination of ingredients is so tasty that it makes you want to eat more and more!