Sesame Ginger Broccoli Macro Bowl
By Nmami Agarwal 30-Jun 2020 Reading Time: 3 Mins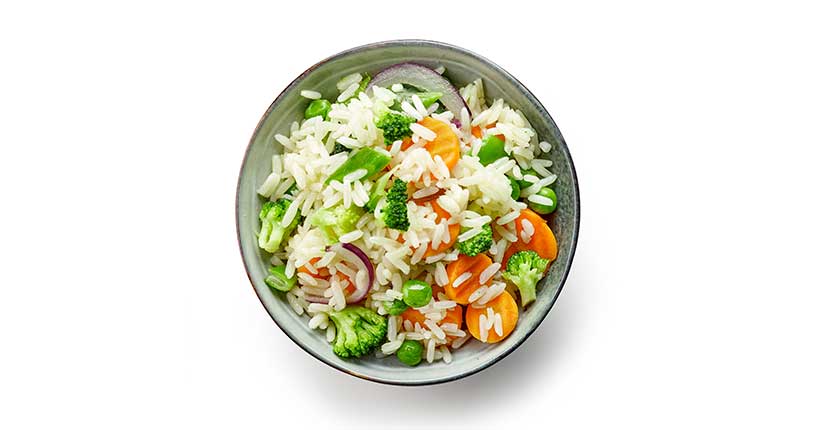 Macro Bowl is extremely flavourful and full of carbohydrates. It is very simple to prepare and this comforting dish is full of macronutrients and minerals. This provides a complete meal as the steamed broccoli spread over warm rice and drizzled with sesame ginger sauce has an outstanding flavor that relishes all the taste buds.
Nutritional benefits:
Broccoli is very nutritious and rich in fiber that helps in lowering cholesterol levels. it is a good source of great antioxidants or immunity, it also contains high levels of calcium and vitamin K that are good for bones, therefore, helping in osteoporosis. Other ingredients such as sesame seeds, garlic are all nutritious and help in heart health.
Ingredients:
10 grams of broccoli
10 grams of boiled rice
5 grams sesame seeds
½ teaspoon olive oil
½ teaspoon lemon juice
1 teaspoon red chili sauce
2 dates
½ teaspoon apple cider vinegar
5 grams garlic
5 grams paneer
5 grams of ginger
Salt and pepper as per taste
Per Serving:

Nutrition Info
Amount
Calories
144 kcal
Carbs
19.8 grams
Protein
2.9 grams
Fats
6.8 grams
Method:
Steam the broccoli in a steamer for about 10-15 minutes.
Meanwhile, take a blender and add in the sesame seeds, water, oil, red chili sauce, lemon juice, dates, apple cider vinegar, minced garlic, and ginger.
Blend it to form a smooth paste.
Season the broccoli with salt and pepper.
Take a skillet and roast the paneer and season with salt and pepper.
Take a serving bowl, add in the warm rice. Now top it with the seasoned broccoli and paneer.
Drizzle the ginger sesame paste over it.
Garnish with seeds of choice, basil or coriander leaves and serve.
Over to you:
A macro bowl is a bowl of nutrition that is prepared in minutes and provides various health benefits. It is a complete meal bowl that has all the components. This delicious macro bowl is loved by all and should be included in the diet to give a punch of nutrition.