Avocado Paratha
By Nmami Agarwal 27-Apr 2021 Reading Time: 2 Mins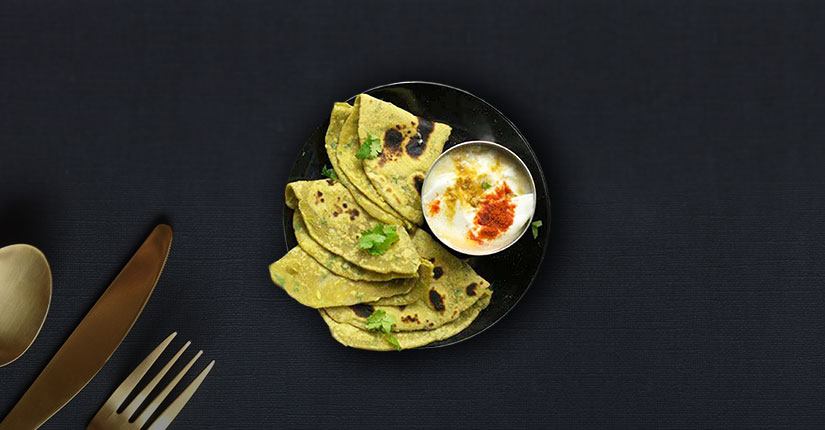 Avocado parantha is the perfect north Indian breakfast delicacy with ginger flavor that is accompanied by curd or any chutney of choice. It is a perfect way to add avocadoes to a kid's diet.
Nutritional benefits: Avocados are a great source of vitamins as well as riboflavin, niacin, folate, pantothenic acid, magnesium, and potassium. They are good in healthy fats and loaded with mono-saturated fatty acids.
Ingredients:
20 grams ripened avocado
30 grams whole wheat flour
¼ teaspoon carom seeds
½ teaspoon ginger
¼ teaspoon black pepper or red chili powder
½ teaspoon cumin powder
1 teaspoon lime juice
1 teaspoon ghee
1 teaspoon chopped coriander
Salt as per taste

Calorie count
Per Serving:


Nutrition Info
Amount
Calories
151 kcal
Carbs
23.4 grams
Protein
4.5 grams
Fats
5.4 grams

Method:

Take a clean bowl and add in the mashed avocado, cumin powder, and black pepper, salt, and lemon water./li
Mix it well and then add in the flour and some oil.
Mix it properly and knead the dough by adding little water and let it rest for about 15 minutes.
Shape them into balls and prepare the parantha.
Cook the parantha from both sides and serve with curd or gravy.
Over to you:
Avocado paranthas are double in nutrition and great to be consumed in lunch. They can also be eaten in dinner to add some uniqueness and nutrition to the meal. One can enjoy this with curd or chutney of any choice.