Baked Ragi Chakli
By Nmami Agarwal 30-Apr 2022 Reading Time: 3 Mins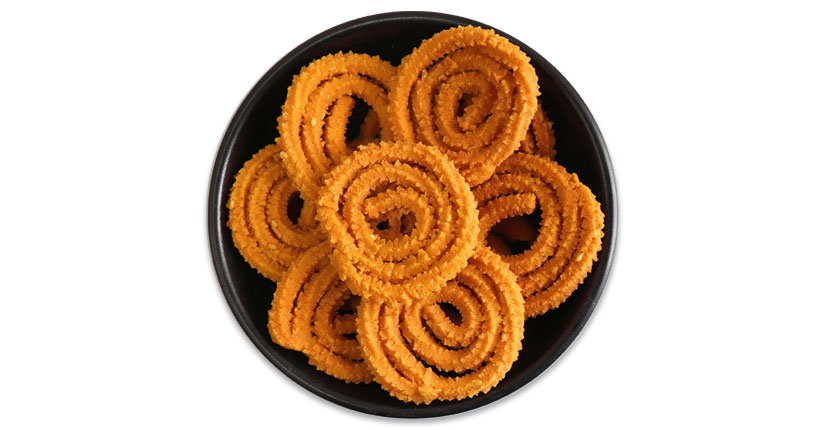 Chakli is a jar snack that evokes pleasant memories of vacations spent with cousins or friends at grandma's place raiding the many snack jars in the pantry. Over time, many of us have almost given up on these simple pleasures due to health concerns. Here is a healthy baked version of your favourite munchie- Baked Ragi Chakli
Benefits:
Ragi is rich in fibre minerals and amino acids which make it a good choice for diabetics. It also has more polyphenols than the commonly used grains like rice, wheat, and corn which help control blood sugar levels. Due to its high fibre and protein content, Ragi is helpful for feeling full for a long time thus helps in weight management. Ragi is one of the few rich sources of calcium, apart from dairy products, which helps strengthen bones and teeth. The iron content in Ragi boosts haemoglobin levels, which especially helps people with anaemia. Sprouted Ragi releases Vitamin C which helps your body absorb haemoglobin too.
Ingredients
125 gms ragi flour
75 gms besan flour
2.5 gms ginger, 2.5 gms chilli
1 gm garlic paste
2.5 gms salt
10 ml oil
Calorie Count
Calories
361 Kcal
Fat
6.3 grams
Carbohydrates
65.1 grams
Protein
11.3 grams
Method:
Take the dry ingredients and knead them together. Add oil and the required amount of water.
Let it become a semi-soft dough. Make two equal sizes.
Take one half of the dough into a Chakli machine.
Press out roundels of the dough. Put chaklis in a preheated oven. Temperature should be around 360°f for 15-20 minutes.
Take the other half and repeat the same process.
Let it cool, the Chakli whirls are ready to use.
Over to you:
This recipe can be an excellent option for mid meals so that one won't have excess carbohydrate cravings during the main meals. Try including this dish for mid morning or during your tea time.