Velvety Sweet Potato Soup
By Nmami Agarwal 10-Jan 2022 Reading Time: 2 Mins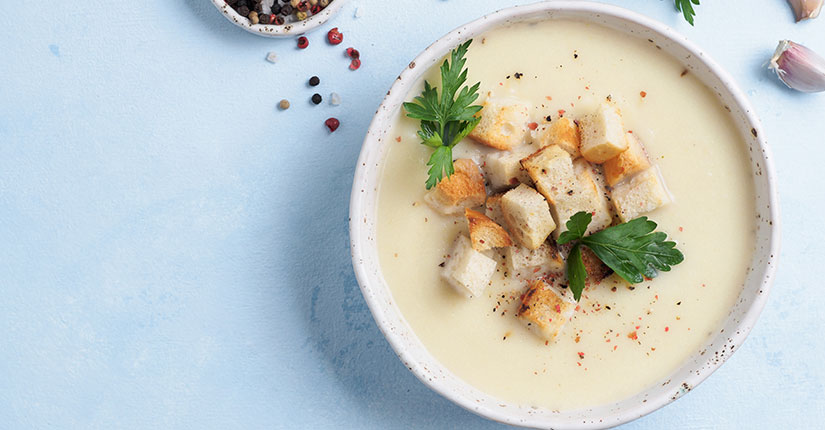 Velvety Sweet Potato Soup is an amazing dish to be added into your diet which is a perfect treat to your taste buds. Loaded with vegetables like zucchini & bell peppers it is easy to make healthy soup to try your hands upon and get filled with the amazing mouth-watering experience.
Nutritional benefits –
Sweet potatoes- Sweet potatoes are a healthy option instead of potatoes. They are rich in Fiber, vitamin B and Vitamin C.
Ingredients -​​
1 medium sized sweet potato
20 grams onion
20 grams bell peppers
1 teaspoon cumin powder
1 teaspoon paprika
1 teaspoon garlic powder
2 green chillies
2 cups vegetable broth
1 tablespoon minced cilantro
1 tablespoon lemon juice
Salt and pepper as per taste
1 teaspoon olive oil
Calorie Count
Calorie
122.2 kcal
Protein
4.2 grams
Carbohydrates
10.7 grams
Fat
2.4 grams
Method –
To begin with, take a dutch oven and heat olive oil over a medium heat. Add onions and let it cook until soft. Add red peppers, green chillies, cumin, salt and coriander.
Then stir in the reserved juice from roasted bell peppers, sweet potato and vegetable broth. Bring to a boil and reduce the heat. Now cook the soup until the sweet potatoes are tender. Stir in the cilantro and lemon juice.
Serve hot.
Over to you-
So, try this healthy and filling dish, which will satisfy your taste buds along with providing you with essential nutrients.