Strawberry Spinach salad
By Nmami Agarwal 03-Sep 2020 Reading Time: 2 Mins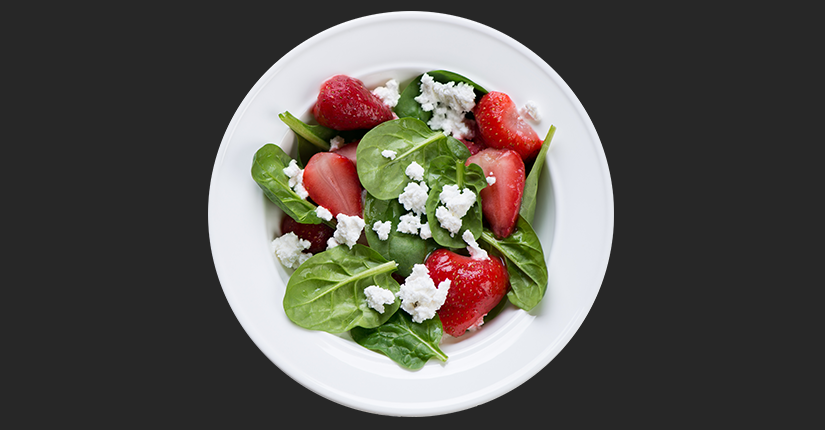 This crunchy strawberry and spinach salad is a great mix of sweet strawberry and crunchy spinach which makes it a must-try recipe for summer days.
Nutritional Benefits:
Strawberries are good for the immune system, lowers blood pressure, helps better brain function, and enhances eye and skin health. Spinach is by far the healthiest green vegetable to be added in a dish providing great amounts of Vitamin A, folic acid, nitrates which helps reducing blood pressure levels, good for eye health and fibre helps in constipation. Therefore, is a great combination of veggies with chicken providing nutritional benefits.
Ingredients:
½ teaspoon vinegar
5 grams garlic
½ teaspoon honey
1 teaspoon olive oil
Kosher salt as per taste
Oregano to taste
Ground black pepper as per taste
10 grams of spinach
5 grams onions
10 grams of strawberries
5 grams chopped pecans
Per Serving:

Nutrition Info
Amount
Calories
75 kcal
Carbs
3.9 grams
Protein
0.8 grams
Fats
6.6 grams
Method:
Start by taking a clean small bowl, whisk the vinegar, honey, olive oil, salt, pepper, and garlic. Whisk till it is completely combined.
Then add in the spinach, strawberries, pecans, and onion to the bowl.
Pour in the dressing over the veggies and mix.
Serve it on a plate and enjoy!
Over to you:
This is the perfect salad that can be used as both main and side dishes. It is gluten-free and loaded with veggies that are easy breezy to prepare. It can be used as an everyday salad as it is fresh and flavourful.