Instant Egg Bites
By Nmami Agarwal 24-Nov 2020 Reading Time: 2 Mins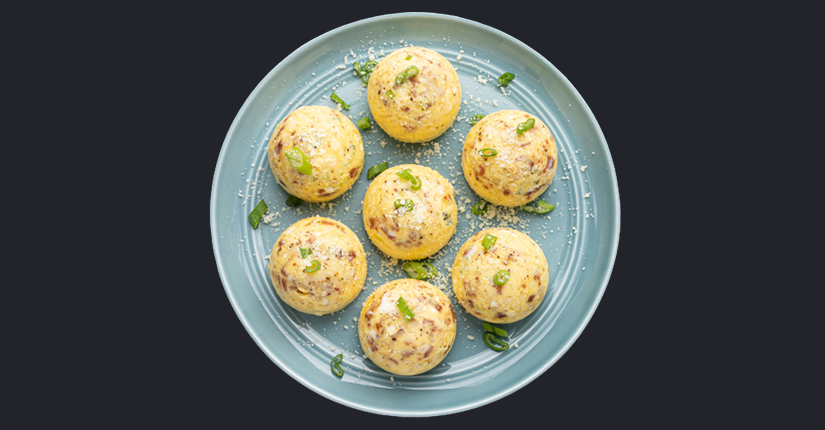 These Instant Pot Egg Bites are very delicious, easy to prepare and a healthy breakfast option. With few ingredients and wonderful taste, this is a great way to add egg in the diet.
Nutritional Benefits:
Egg whites are a great source of protein and great for muscle building. Spinach is by far the healthiest green vegetable to be added in a dish providing great amounts of Vitamin A, folic acid, nitrates which helps reducing blood pressure levels, good for eye health and fiber helps in constipation.
Ingredients:
1-2 egg whites
50-60ml of water or milk
½ teaspoon salt
½ teaspoon baking powder
Ground black pepper, to taste
Cooking spray
10 grams spinach
10 grams bell pepper
Per Serving:

Nutrition Info
Amount
Calories
38 kcal
Carbs
1.2 grams
Protein
7.5 grams
Fats
0.1 grams
Method:
Take a clean Instant Pot, add in half cup water.
Take a cup and add eggs, water, baking powder, salt and pepper. Whisk properly to mix well.
Spray the mould with some cooking spray and pour the mixture in it.
Add in the toppings like boiled spinach and bell pepper or other veggies along with salt and pepper
Close the mould and stack them on top of each other.
Place them inside the Instant Pot and close the lid, set pressure valve and Pressure Cook on High for 8 minutes.
Using oven mitts and remove moulds from Instant Pot.
Open the lids, cool off for few minutes and release egg bites one by one.
Over to you:
The perfect bites to grab on anywhere that has the goodness of protein as eggs and are delicious. Enjoy!