Nmami Life App- Kids Nutrition at Its Best for Your Little Ones
By Nmami Life Editorial 15-Jun 2020 Reading Time: 6 Mins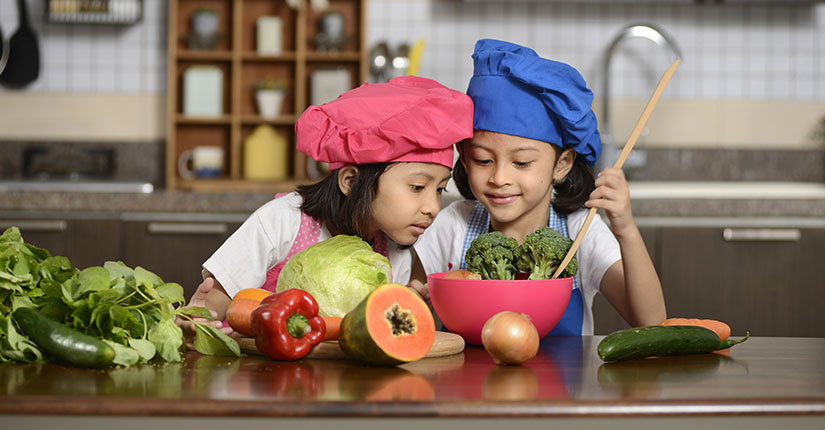 How your child eats today can have a huge impact on their health throughout their later years of life. Eating nutritious food helps children grow, and is essential for children's mental and physical development.
Is a balanced diet important for kids as well?
Yes, every child needs a healthy balanced diet and they should get all the essential vitamins, minerals and other nutrients that children need for healthy growth and development. 
Certain nutrients are required for a variety of reasons listed below:
To maintain their energy levels.

Sharpen their minds.

Keep them away from unhealthy binge eating.

Help them maintain a healthy weight.

Help prevent mental health conditions like depression, anxiety.
A healthy diet if started at a younger age, builds the foundation of a healthy physical, mental and emotional health tomorrow. Our motto of "Eat today for Tomorrow" holds most true for a child.
Most of the parents are working these days and could pay less attention to their child's dietary needs and the child might develop bad eating habits. Kids these days are exposed to so many gadgets and gizmos that tracking their diet or physical activity can become a nightmare for the parents. This has resulted in an increased incidence of childhood obesity, lethargy, eyesight, and growth issues.
If you are a worried parent of a child who has fussy eating habits and a general lack of interest in healthy foods, then you have come to the right place.
Nmami Life can help you and your child with-
Innovative and palatable healthy recipes

Addressing the issue of weight (childhood obesity or lack of appetite)

Special requirements (Examination stress, school competitions, or school events)

Tiffin ideas, and more.
And we do it all by also understanding the psychology of your child so that the foundation for tomorrow is laid in the most holistic manner. We make sure that the specification of other details or about allergies are taken care of in the diet. 
Tips to help kids develop an interest in eating and make food fun for them:
A parent is a role model in itself. It`s important to set an example. Eat all these healthy foods yourself and show your child how enjoyable they can be.

Involve them and get creative in the kitchen – make food fun. Take help to cut food into funny shapes, make faces out of the food and enjoy the process of preparing and cooking a meal. Let the children experiment with the different flavors and textures of food.

Ask them to choose what they want to eat for their meal from a chosen group of foods. Children love to be involved in decision making! 

You can also get the children involved in the grocery shopping. Discuss where the fruits and vegetables came from and let your child decide and make healthy food choices themselves at the shops.
Over to you
We, at Nmami Life, are working continuously to provide the best of our services and to keep you healthy and fit. A fit child goes long way in life and is better able to achieve all his/her goals and keeps him/her away from all the chances of developing illnesses which further develops him/her into an individual having a positive outlook towards life.
To avail our services, view our kids' holistic nutrition plan at https://www.nmamilife.com/ to make your child healthier.
Remember, your food choices affect your health and can make you stay fit in long run so "Eat Today for Tomorrow."
Download the app now:
iOS — http://bit.ly/nmamiios
Android — http://bit.ly/nmamiapp