Crunchy Papaya Boat
By Nmami Agarwal 26-Nov 2021 Reading Time: 1 Mins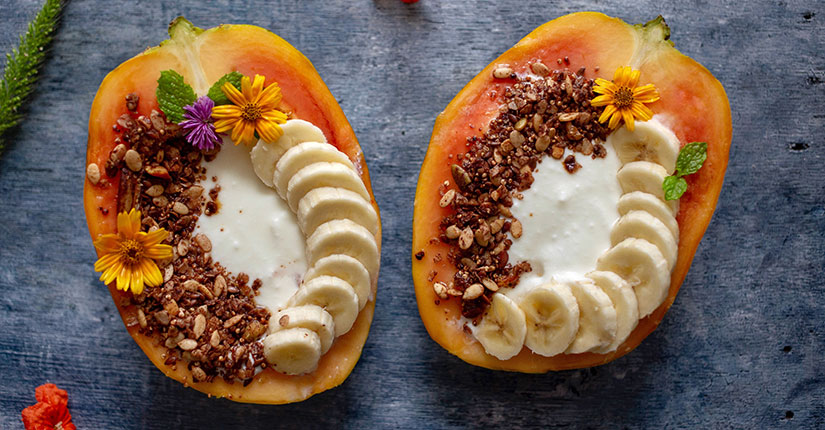 A crunchy Papaya boat is a great addition to the holiday table at any time of the year. This is a great way of forgetting the boring way of eating it and improvising it while consuming all the healthy nutritious components. It is a great option to be used as a side dish along with your favorite meals.
Nutritional benefits:
Papaya is good in antioxidants and good in fiber and vitamin C that helps to fight off heart diseases.
Ingredients:
5 grams walnuts
1 small papaya
20 grams yogurt
¼ teaspoon ground cinnamon
Calorie Count
Calories: 92 Kcal
Fat: 2.4 grams
Carbohydrates: 16.7 grams
Protein: 2.4 grams
Method:
First, dry roast the walnuts in a frying pan for 5-7 minutes and keep them aside.
Scoop the papaya to remove the seeds and add yogurt, cinnamon, and walnuts over it.
Serve and scoop out the papaya while consuming
Over to you:
This papaya boat is very simple to prepare but is full of texture and flavor combinations. The gorgeous yogurt base along with the papaya makes it a very desirable dish.