Carrot and Apple Soup
By Nmami Agarwal 08-Jun 2021 Reading Time: 2 Mins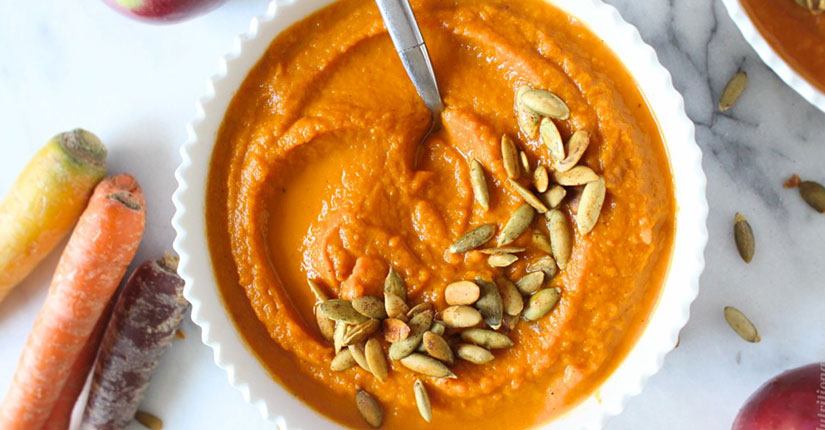 Carrot and apple soup is a relishing recipe which you can enjoy at any time during the day. It consists of low calorie ingredients such as apples, carrots and Tomato to provide you with a tangy tinge and flavor.
Nutritional benefits –
Apples are highly rich in antioxidants, flavonoids and dietary fiber. Apples contain phytonutrients and antioxidants which are helpful in reducing the risk of developing cancer, hypertension, diabetes and heart problems. Carrot is a rich source of Vitamin A and fiber. Vitamin A acts as an antioxidant and further improves vision.
Ingredients –
10 grams Apple
20 grams carrot
20 grams onion
20 grams tomato
½ teaspoon Ginger and garlic paste
1 cup water or vegetable broth
1 teaspoon lime juice
Salt and pepper as per taste
Fresh basil for garnish
Calorie count
Per Serving:

Nutrition Info
Amount
Calories
68.4 kcal
Carbs
4.6 grams
Protein
1.5 grams
Fats
4.4 grams
Method –
Dice the apple in fine pieces.
Then take a sauce pan and add ginger garlic paste and cook until its flavor is completely absorbed
Add vegetables like carrot, onion and tomato in the pan and cook thoroughly.
Cook until soft and add water or vegetable broth and bring to boil.
Add diced apple to it and salt, pepper and lime juice and cook for 5-10 minutes.
Garnish with fresh basil leaves and serve hot.
Over to you-
Carrot and apple soup is a perfect bowl of delicious taste and ample benefits. It is for sure a must try.