Mushroom Vindaloo
By Nmami Agarwal 23-Jun 2020 Reading Time: 2 Mins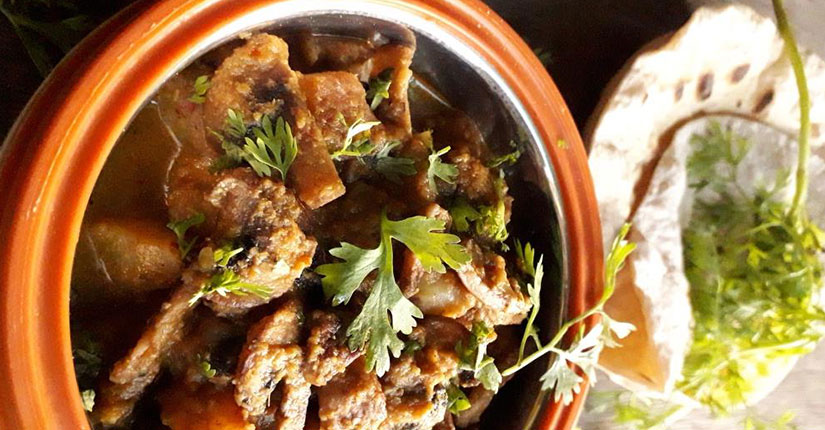 Mushroom Vindaloo is a special curry relished in Goa. Made especially with Goan style and spices it gives you a perfect tinge of creamy and spicy flavour altogether.
Nutritional Benefits:
Mushrooms are rich in potassium, protein, Vitamin K and Vitamin C. Potassium plays a very important role in boosting heart health and controlling high blood pressure.
Ingredients:
40 grams mushrooms
20 grams onion
½ teaspoon ginger garlic paste
¼ teaspoon turmeric powder
1-2 red chillies
½ teaspoon coriander powder
¼ teaspoon cumin seeds
Salt and pepper as per taste
1 teaspoon olive oil
Per Serving:

Nutrition Info
Amount
Calories
143.1 kcal
Carbs
15.5 grams
Protein
2.2 grams
Fats
9.3 grams
Method:
To start with, gather all the spices together except ginger garlic paste and heat them over a small skillet over a medium flame.
Sautee this paste for a few minutes and keep it aside to cool. Then grind it to form a fine powder.
Now heat oil in a pan, add ginger garlic paste followed by onions. Then add the ground spice powder and simmer for 2-3 minutes.
Add mushrooms and mix well. Let it cook for 8-10 minutes until mushrooms soften.
Serve hot.
Over to you:
Try out this spicy and tangy Goan recipe and pamper yourself with its amazing taste and flavour.