Beet Apple Soup
By Nmami Agarwal 03-May 2020 Reading Time: 2 Mins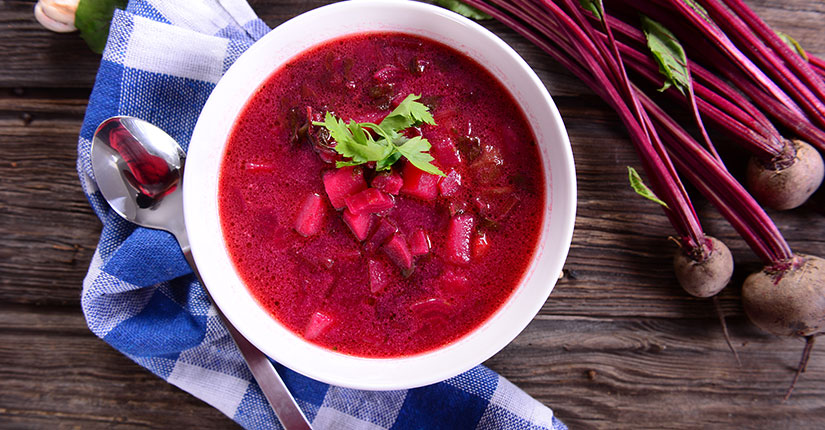 Soup is a quick, hot meal that gives a feeling of fullness and this delicious and healthy recipe
of Beet Apple Soup, with red beets, fresh apples, celery, and herbs will fulfill the plenty of
health benefits.
NUTRITIONAL BENEFITS:
Beetroot provides impressive health benefits. It is a great source of fiber, folate, vitamin C and is low in calories. Apples are popular fruits, containing antioxidants, vitamins, dietary fiber and a range of other nutrients.
INGREDIENTS:
20 grams beetroot
30 grams apple
20 grams onion
2 celery stalks
1 clove garlic
1 cup vegetable broth
1 teaspoon fresh herbs (thyme, oregano)
1 teaspoon oil
2 springs coriander
Salt and pepper to taste
Nutrition Info
Amount
Calories
80 kcal
Carbs
7.7 grams
Protein
0.6 grams
Fats
5.4 grams
METHOD:
Preheat the oven to 350 degrees. Place beets in a foil and bake it until the beets are soft.
Remove it, cool it, remove the skin and slice them into small chunks.
Chop apples and onions and keep it aside
Heal the oil over medium heat in a soup pot. Add beets, apples, celery, onions, and
garlic and cook it until soft brown.
Then add vegetable broth and bring it to boil, add fresh herbs and cook it for 20-
30 minutes over low heat.
Take the soup off the heat and blend it in a blender until smooth. Add salt and pepper or more spices to the taste.
Garnish it with coriander leaves and serve.
Over to you:
Beet-apple soup makes a wonderful starter or a light meal anytime and so a bowl of this
before dinner will set your palate for the dishes to follow.