Sweet Potato Egg Casserole
By Nmami Agarwal 11-Sep 2020 Reading Time: 2 Mins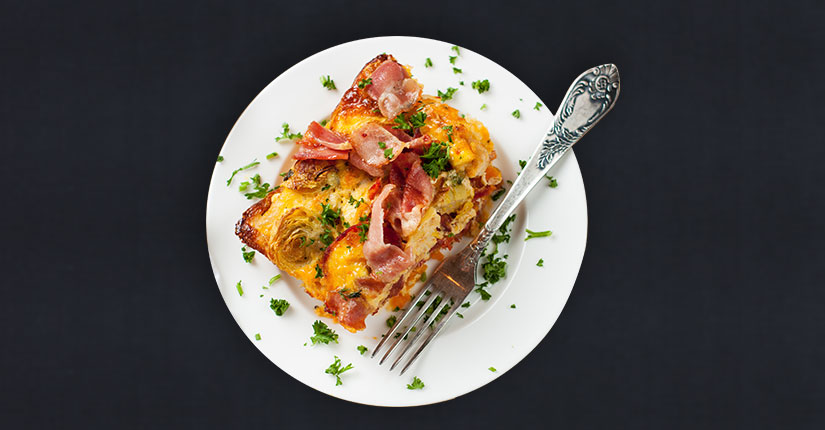 Sweet potato egg casserole made using eggs, spinach and shredded sweet potatoes is a perfect treat to your taste buds. It is easy to prepare, filling and can be a top pick for you at breakfast, lunch and on holidays.
Nutritional Benefits:
Sweet potatoes are a healthy option instead of potatoes. They are rich in Fiber, vitamin B and Vitamin C.
Ingredients
1 Medium sweet potato
1 teaspoon of lime juice
1/2 teaspoon of ground black pepper
40 grams boiled spinach
50 ml low fat milk
20 grams green onions
1 teaspoon jalapenos
1/4 teaspoon of garlic powder
1/4 teaspoon of onion powder
1/4 teaspoon of chili powder
Salt and pepper as per taste
Per Serving:

Nutrition Info
Amount
213.9 kcal
Carbs
30.4 grams
Protein
7.5 grams
Fats
6.2 grams
Method:
Firstly pre-heat the oven to 350 degrees.
Take a bowl and add eggs, all the spices and whisk together. After few seconds add green onions, jalapenos, milk and whisk to combine.
Now add shredded sweet potato followed by spinach and mix well.
Transfer this mixture on a baking dish and flatten it with the help of spatula. Bake for few minutes.
After few minutes, remove this from oven and cut into small squares.
Serve and enjoy.
Over to you
So, try this healthy and filling dish, which will satisfy your taste buds along with providing you with essential nutrients.