Instant Pot Pulao
By Nmami Agarwal 11-Apr 2020 Reading Time: 3 Mins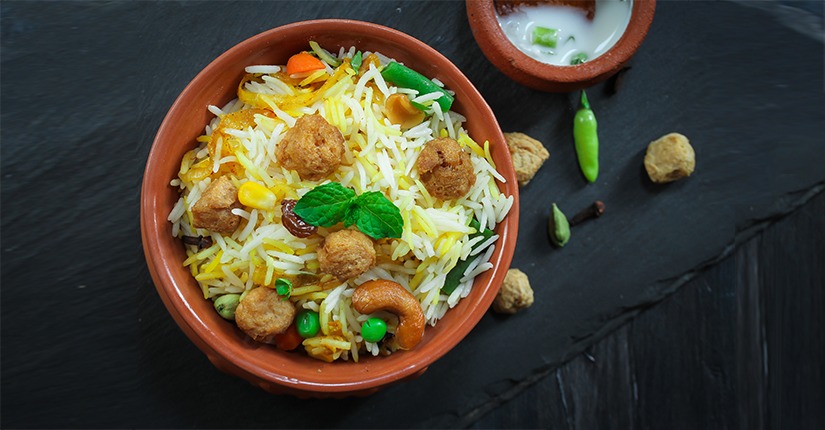 Instant pot pulao is very delicious and easy to prepare with different spices and vegetables in it. The final pulao is well-cooked and the rice grains are cooked yet separate.

Nutritional benefits: Rice is a good source of B vitamins, magnesium and manganese. They are gluten free and good for people suffering from celiac disease. As it is low in sodium it is good for people suffering from hypertension. It is very beneficial and the vegetables add along the nutritional value.
Ingredients:
10 grams Basmati rice
1 teaspoon oil
5 grams onion
5 grams tomatoes
1 tablespoon of chopped coriander leaves
1 teaspoon of mint leaves
5 gram ginger garlic paste
1-2 green chilli
½ teaspoon turmeric
½ teaspoon red chilli powder
A pinch of asafoetida
20 grams mixed vegetable (cauliflower, cabbage, carrot, beans, corn, peas)
Salt as per taste
1-2 small Indian bay leaf
1-2 cloves
3-4 black pepper
½ teaspoon cinnamon
1-2 green cardamoms
1 star anise
1 teaspoon each of cumin and fennel seeds
Nutrition Info
Amount
Calories
75 kcal
Carbs
5.7 grams
Protein
1 grams
Fats
5.4 grams
Method:
Wash the rice till the starch is rinsed and soak it for about half an hour.
Meanwhile, chop the veggies.
Add oil in the pan, temper the spices( cardamom, cinnamon, cumin, clove and bay leaf),
Then add the onions to sauté till they turn brown.
Add in the ginger garlic paste, green chillies, coriander leaves and mint leaves.
Then add the tomatoes and sauté for 1-2 minutes.
Add in the spices(turmeric powder, red chilli powder, coriander powder and a pinch of hing).
Sautee them for some-time and then add in the veggies.
After some time, add in the soaked rice.
Let it mix well and then add salt and water.
Pressure cook the rice for about 5 minutes and let the pressure release slowly.
Garnish with coriander leaves and serve with raita, curd, salad or pickle.
Over to you:
The healthy yet delicious instant pot pulao is nutritious and can be taken with raita, curd or pickles. Enjoy it with your favourite curry!