Labneh with Pistachio
By Nmami Agarwal 25-Oct 2020 Reading Time: 3 Mins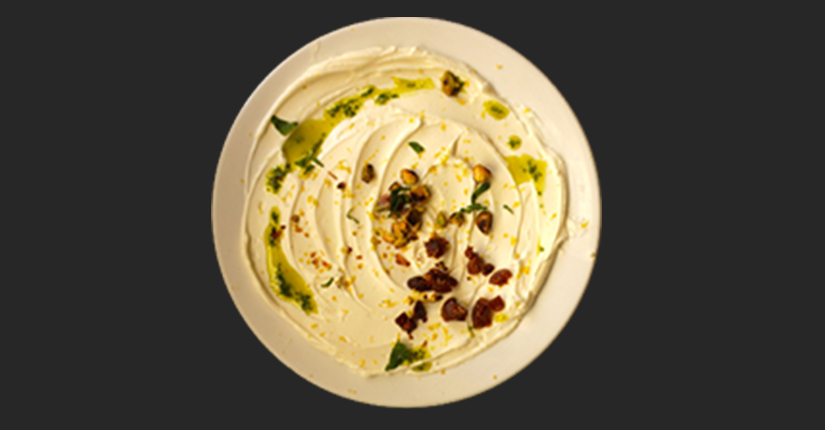 Labneh is strained tangy yogurt with a bit of salt. This Labneh Dip with Pistachio recipe is the best, most flavourful and lightest way to make a dip.
Nutritional Benefits:
Yogurt is a calcium powerhouse and a source of high quality protein. It is hence a nutrient rich as it is an excellent source of vitamins and minerals.
Ingredients:
30 grams plain yoghurt
1 garlic clove, crushed
Salt and ground black pepper, to taste
½ teaspoon lemon zest
1 teaspoon olive oil
For Pistachio Zaatar
10grams unsalted pistachio kernels, chopped
½ teaspoon sesame seeds, toasted
½ teaspoon dried oregano
½ tsp fresh thyme leaves, chopped finely
⅛ teaspoon ground cumin
Per Serving:

Nutrition Info
Amount
Calories
109 kcal
Carbs
8.9 grams
Protein
3.4 grams
Fats
7.8 grams
Method:
Place the yoghurt into a medium bowl and stir in the salt.
Line a colander with 3-4 layers of cheesecloth and place the colander inside a deep medium bowl. Pour the yoghurt into the cheesecloth. Gather all sides of the cheesecloth together and secure it with a rubber band.
Place the bowl in the refrigerator for long hours. This process will allow the liquid, or whey, to drain from the yoghurt. The longer it is chilled, the thicker the labneh will be.
Open the cheesecloth and scoop out the labneh into a medium bowl.
Add the garlic and mix until well combined. Cover with cling film and place in the refrigerator.
To make the pistachio zaatar, place all of the ingredients into a small bowl and mix until well combined. Set aside.
To serve, place the labneh in a serving bowl and sprinkle over the pistachio zaatar and lemon zest. Drizzle with olive oil and serve with the pita chips or pita bread on the side. Enjoy.
Over to you:
Mediterranean Labneh Dip with Zaatar Pistachio is an easy this easy dip is that tuns out to be a perfect appetizer or can be served as part of a mezze platter.