Cauliflower alfredo sauce
By Nmami Agarwal 02-Jan 2020 Reading Time: 2 Mins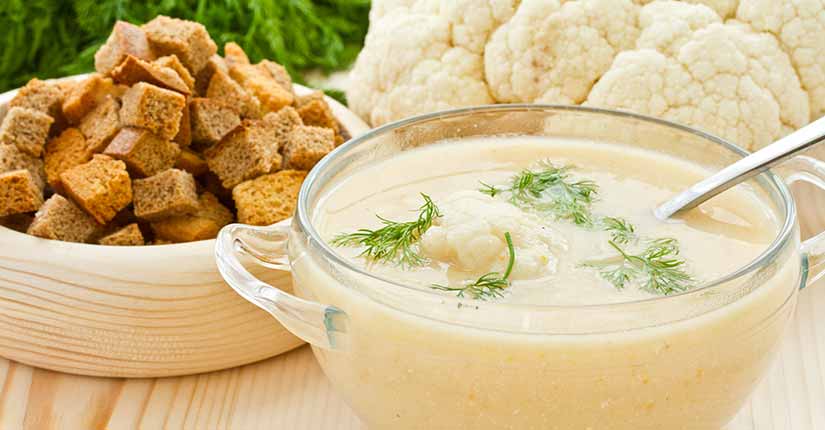 Everybody loves a healthy, creamy bowl of pasta to combat their junk cravings. This creamy and healthy cauliflower with nuts are added to prepare a very rich and smooth dressing to go along with all the healthy types of pasta and to make them more delicious and nutritious.
Nutritional benefits: Cauliflower being the main ingredient of the dressing is high in fibre that helps in digestive problems. It is good source of choline that helps in brain development.
Ingredients:
20 grams cauliflower
10 grams whole wheat noodles or pasta
1 teaspoon of coconut oil
5 grams garlic
1 teaspoon pine nuts
15 ml almond milk
1 teaspoon of oregano
1 teaspoon of salt
1 teaspoon of pepper
1 teaspoon of basil
1 teaspoon of lemon juice
15 grams yogurt
Nutritional Value
Nutrition Info
Amount
Calories
136 kcal
Carbs
12 grams
Protein
3.75 grams
Fats
9 grams
Method:
Keep skillet on the stove over medium flame, heat some coconut oil, garlic and pine nuts for about 4-5 minutes or till they are golden brown.
Pour the almond milk in the skillet and allow it to boil.
Then add the chopped cauliflower and the spices.
Let the mixture heat until the cauliflower is cooked or has turned soft.
Turn off the heat and let it cool down for some-time.
In a blender, add in the cauliflower mix, yogurt and lemon juice.
Blend to form a smooth and silky paste.
Boil the whole wheat noodles, cook with some vegetables and dress it with this cauliflower dressing.
Garnish with some coriander leaves and serve!
Over to you:
This rich, creamy and filling sauce goes well with pasta, pizza, noodles or any other snacks. The creamy punch allows you to choose it as a dip with nachos as well. Do let us know in the comments!