Spinach and Couscous Patties
By Nmami Agarwal 02-Jan 2022 Reading Time: 2 Mins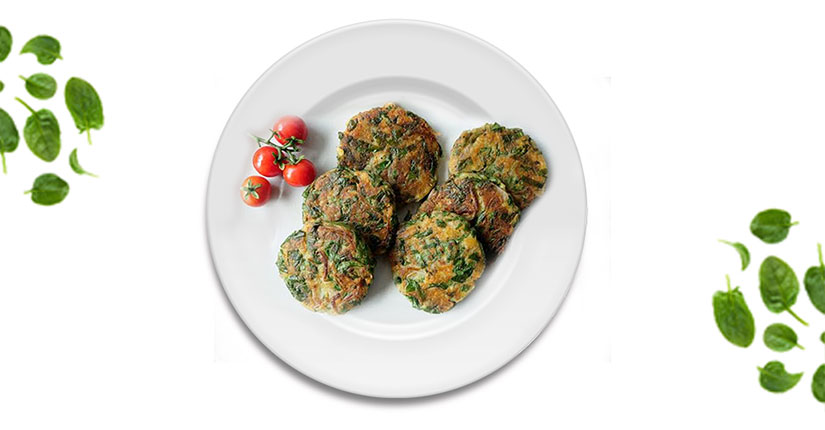 Spinach and Couscous Patties is an amazing dish which is easy to make yet is high on nutrition. It is a perfect munching snack to pamper yourself whenever you suffer hunger pangs.
Nutritional benefits –
Spinach is one of the healthiest green vegetables which is an excellent source of Vitamin A, folic acid, nitrates that helps to reduce blood pressure levels and promotes eye health. Sesame seeds are considered as a good source of calcium & dietary protein, with high-quality amino acids making up 20% of the seed. Tofu is gluten-free & lactose free and is low in calories. It is also an excellent source of iron and calcium.
Ingredients –
20 grams cucumbers
10 grams tofu
10 grams couscous
40 grams spinach (boiled)
10 grams plain yogurt
10 grams onions
½ teaspoon sesame seeds
1/4th teaspoon garlic powder
Salt & pepper as per taste
1 teaspoon olive oil
Calorie Count
Calorie
143.5 Kcal
Protein
4.5 grams
Carbohydrates
9.5 grams
Fat
7.2 grams
Method –
Firstly, boil couscous according to the package instructions.
Then combine yogurt, garlic powder, shredded cucumber and salt in a bowl.
Now, put all the ingredients, except the oil, in a bowl and mix altogether. Then season with salt and pepper and keep it aside for 20 minutes.
To cook the patties, heat a little oil in a heating pan over medium heat, then take a little mixture in your hand and shape into a patty, flatten slightly.
Now, cook for 2-3 minutes on each side until golden brown.
Serve hot with the yogurt cucumber sauce.
Over to you-
This recipe is full of flavour and is definitely a healthy dish which provides you with various nutrients. Along with this it is a top pick for your starters or evening snack.