Baked Zucchini Fries
By Nmami Agarwal 29-Oct 2020 Reading Time: 2 Mins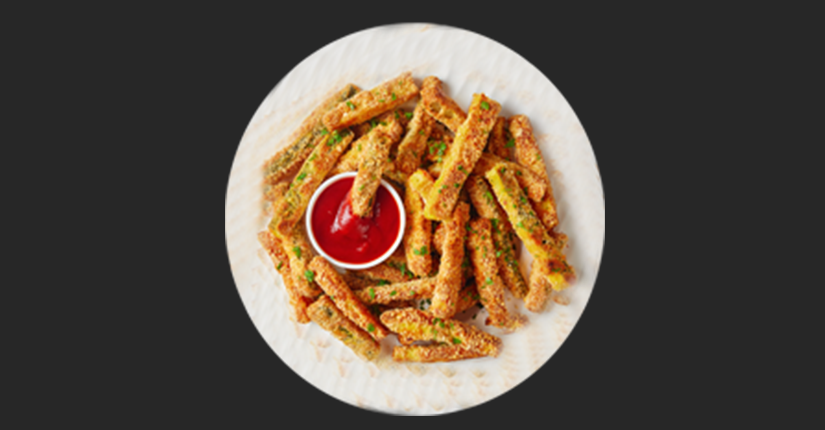 Are you looking for healthier munching options then try out these baked zucchini fries! These delicious fries are healthy, tasty and served with a delicious yogurt spread.
Nutritional Benefits:
Zucchini is very nutritious and rich in antioxidants that reduce the blood sugar levels and aids digestion. It is high in vitamin A and helps in heart health. It is also low in calories therefore aids in weight loss.
Ingredients:
15 grams zucchini
5 grams breadcrumbs
1 egg beaten
½ teaspoon Italian herbs
salt and ground black pepper, to taste
10-gram yogurt
2 garlic cloves
1 teaspoon lemon juice
Salt to taste
Per Serving:

Nutrition Info
Amount
Calories
91 kcal
Carbs
7 grams
Protein
6.4 grams
Fats
4.1 grams
Method:
Start by preheating an oven to 220°C
Line aluminum foil on the baking tray and lightly spray with oil spray.
Cut off the zucchini ends and cut into fries shape.
Take a small bowl and add in the breadcrumbs, herbs and give it a mix.
Dip zucchini in the beaten egg and then to breadcrumbs to coat.
Sprinkle some salt and pepper and lightly spray with cooking spray.
Let it bake for 30 minutes or until it turns golden brown.
Take the yogurt and add garlic, lemon juice, and salt and mix well to combine.
Serve and enjoy!
Over to you:
Try this amazing and easy recipe and munch on a healthy version of fries.