Bhungara potato
By Nmami Agarwal 12-Jan 2020 Reading Time: 1 Mins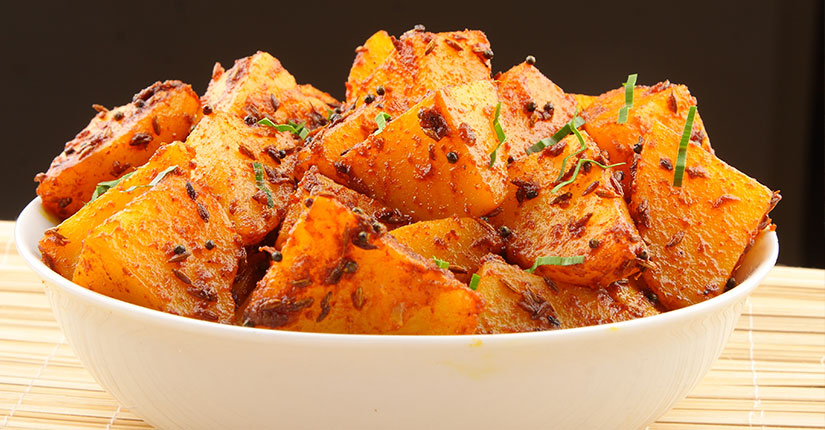 Bhungara potato is a spicy and tangy dish from the streets of Gujarat which is can be consumed in combination with your breads and chapattis.
Nutritional benefits –
Potato is rich is potassium, vitamin C and Vitamin B6. Potato is a starchy vegetable which keeps you fuller for a longer period of time thereby curbs satiety.
Ingredients –
20 grams of potatoes
20 grams of onions
20 grams of tomato
1 teaspoon of ginger garlic paste
1 teaspoon turmeric
1 teaspoon chilli powder
1 spring curry leaves
Salt and pepper as per taste
5 grams of oil
Calorie count-
Nutrition Info
Amount
Calories
77.2 kcal
Carbs
6.2 grams
Protein
0.8 grams
Fats
5.05 grams
Method –
Take the potatoes and cut them into medium sized pieces.
Add chopped chilies and the spices as per taste and mix well.
To prepare gravy, heat little oil in pan and add ginger garlic paste.
Add finely chopped onions and sautee it till golden brown.
Add tomato puree and the spices as per taste.
Add the potatoes and stir until cooked.
Serve hot with rice or with breads or chapattis.
Over to you-
Try this yummy recipe of Bhungara potato and have it along with your breads or chapattis.