Zesty Lemon Bar
By Nmami Agarwal 22-Jan 2022 Reading Time: 2 Mins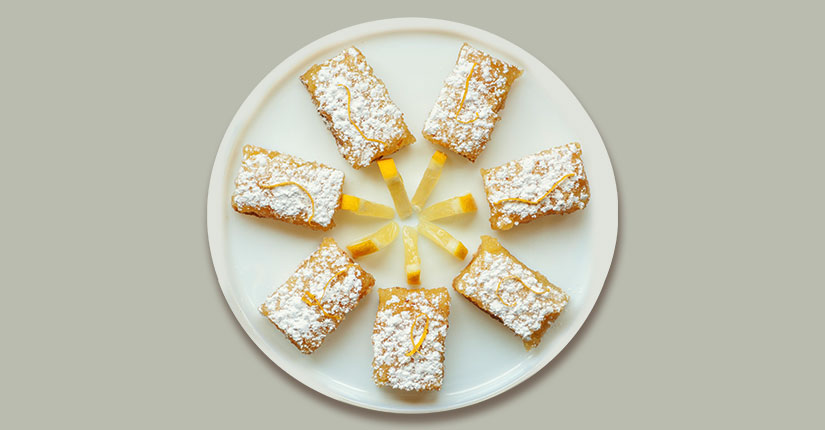 Zesty lemon bar is an amazing sweet and tangy dish enriched with the flavor and goodness of lime juice and lemon zest. This dish is a nutritious way to curb your sweet cravings.

Nutritional benefits –
On the other hand Lemon is rich in vitamin C and antioxidants which provides a tangy flavor to the dish. Garlic is known for its anti-bacterial, antiviral and anti-cancerous properties. Eggs provide us with high biological value protein which helps in building up muscles. They also contain essential omega -3 fatty acids.

Ingredients –
Crust-
20 grams whole wheat flour
5 grams Coconut sugar
5 grams of Coconut oil
Pinch of salt
Filling-
2 egg whites
10 grams coconut flour
1 teaspoon lime juice
Lemon zest
Pinch of salt
1 teaspoon honey
Calorie Count
Calorie
172 kcal
Protein
7.49 grams
Carbohydrates
21.4 grams
Fat
4.38 grams

Method:
Preheat the oven to 180 degree Celsius.
Combine whole wheat flour, coconut oil, coconut sugar and pinch of salt in a larger bowl and mix well.
Line this dough upon a ceramic pan into a medium sized layer and bake it for 20 minutes until light brown color is obtained.
Meanwhile, the crust bakes, combining egg, lemon zest, lime juice, honey, salt and coconut flour until a smooth batter is formed.
Pour this batter on the top of the baked crust and bake for another 30 minutes.
Once cooked, chill them in the freezer and cut into squares before serving.
Over to you-
This dish is for sure a center piece of your dining table. Share this healthy dessert with your family and friends.