Till chikki
By Nmami Agarwal 04-Mar 2020 Reading Time: 2 Mins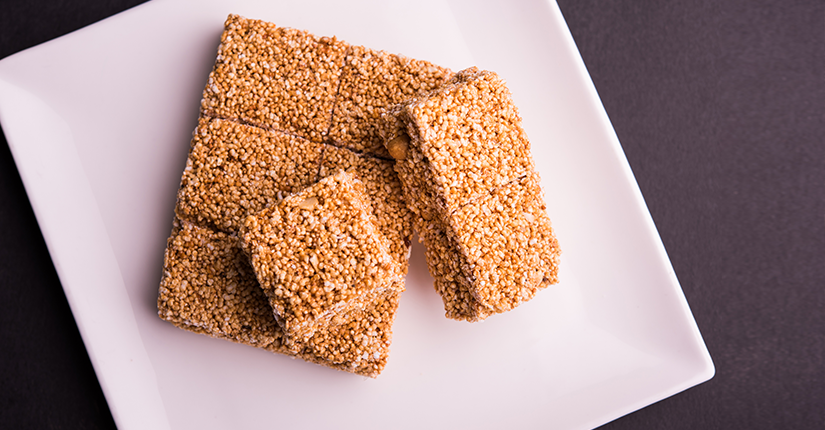 Till chikki are a very popular sweet which are relished during the winter season in northern parts of India. These chikki's are highly nutritious and are enriched with the goodness of sesame seeds along with jaggery.
Nutritional benefits –
Sesame seeds are an amazing source of fiber, calcium, oxalate and phytates. These seeds are also rich in B vitamins like thiamine, niacin and vitamin B6. Sesame seeds are also good source of antioxidants thereby helps in building up of immune system whereas Jaggery is loaded with antioxidants and minerals like iron, zinc and selenium.
Ingredients –
20 grams of sesame seeds (till seeds)
5 grams of jaggery
1 teaspoon cardamom powder
10 grams of desi ghee
Calorie count-
Per Serving:

Nutrition Info
Amount
Calories
211.5 kcal
Carbs
6.3 grams
Protein
4.3 grams
Fats
18.6 grams
Method –
To make till chikki, Take a nonstick pan and put it on medium flame then dry roast the sesame seeds for 5-6 minutes and keep aside.
Now add ghee and jaggery into the pan and mix well. Continue to cook for 2-3 more minutes.
Then add roasted sesame seeds, cardamom into it and mix it well. The batter for till chikki is ready.
Roll this mixture over the clean slab of your kitchen into a thin sheet.
Then cut out small square pieces using a sharp knife.
Allow this chikki to cool down and Store them in an airtight container.
Over to you-
Try this yummy recipe of Till chikki and relish the winter season with the warmness of this healthy and filling snack.