Palak Dhokla
By Nmami Agarwal 12-Aug 2022 Reading Time: 2 Mins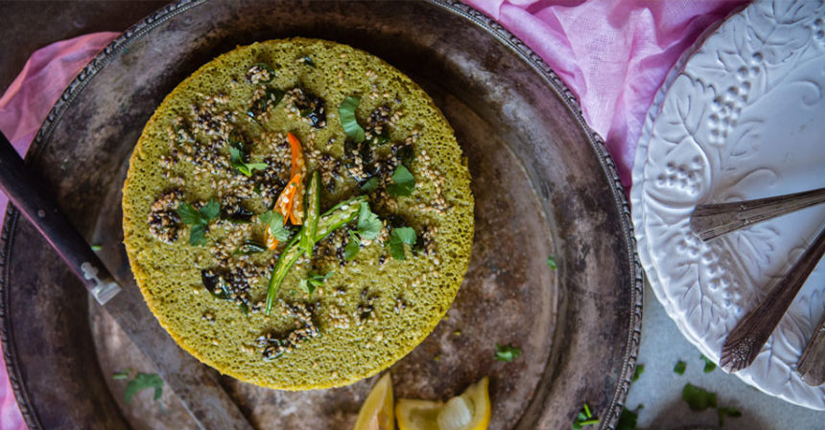 Dhokla is a steamed traditional dish that can be enjoyed as a snack. Palak dhokla gives this traditional recipe a color and benefits of spinach leaves.
Nutritional Benefits:
Besan is less in calories and high in protein as compared to other flours. It is also packed with fiber and keeps the gut health strong. Spinach is a rich source of calcium, vitamin D, and iron.
Ingredients:
½ cup besan
Spinach leaves
1 cup yogurt
2 tsp olive oil
2 green chilies
Curry leaves
1 tbsp lemon juice
1 tsp jaggery powder
1 tsp mustard seeds
½ tsp asafoetida
Salt to taste
Eno or baking soda
Calories
Calories Count
360 Kcal
Protein
24 Grams
Carbohydrates
65 Grams
Fats
17 Grams
Method:
Grind the soaked dal and yogurt and put the mixture into a bowl.
In the mixture, add pureed spinach leaves, salt, sugar, asafoetida, green chilies, and oil and mix.
For the syrup spray some oil, add mustard leaves, curry leaves, jaggery powder, and salt.
Add Eno or soda just before putting the batter into the greased pan.
Steam them in a dhokla maker, cool them, and serve with the garnishing syrup.
Over To You:
Palak dhokla has a charming color and taste, have it with coriander chutney or tamarind chutney as a great snack option.