Orange Pancake
By Nmami Agarwal 10-Oct 2020 Reading Time: 2 Mins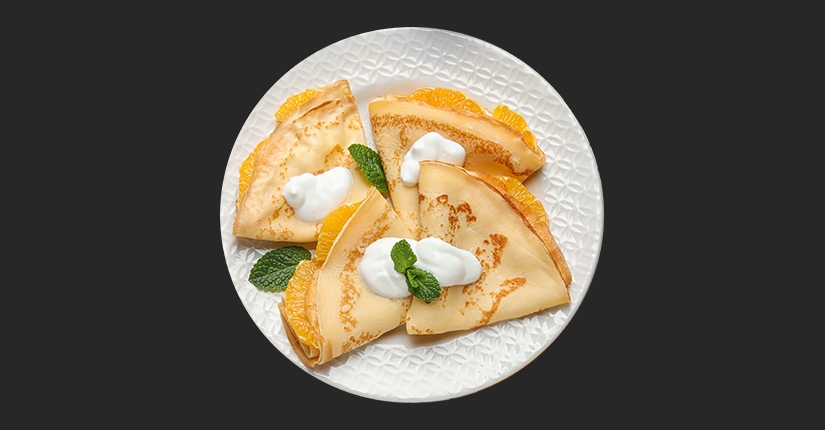 Pancakes are a versatile food that can be taken during breakfast or as snacks or as dessert depending on how they served. These delicious orange pancakes can be topped with ice-cream and garnished with nuts or berries.
Nutritional Benefits:
Oranges are by far the best source of vitamin C that helps to get rid of free radicals and boosts immunity. The antioxidants prevent the skin from damaging. Oats, on the other hand, is highly nutritious and good for digestion as it is high in fiber. It helps in losing weight as it is filling and maintains the blood sugar levels. The ingredients used in pancake preparation are few but nutritious which makes this recipe healthy.
Ingredients:
20ml orange juice
10 grams oats flour
10 grams of wheat flour
05 grams corn flour
A pinch of salt
1 teaspoon of ghee and some for greasing
Mixed nuts for garnishing and scoop of ice-cream
Per Serving:

Nutrition Info
Amount
Calories
127 kcal
Carbs
20.5 grams
Protein
3 grams
Fats
4 grams
Method:
Take a clean deep bowl and combine all the ingredients with some water to form a batter.
Grease a pan properly with ghee.
Pour some batter and cook on both sides with a little amount of ghee.
Serve with a scoop of homemade ice-cream. Top with some chopped mixed nuts.
Over to you:
The combination of orange with the oats flour burst out the best flavour of the pancakes making them delicious and healthy. This is a wonderful choice for breakfast or snacks.