Pineapple Sheera
By Nmami Agarwal 11-Oct 2020 Reading Time: 2 Mins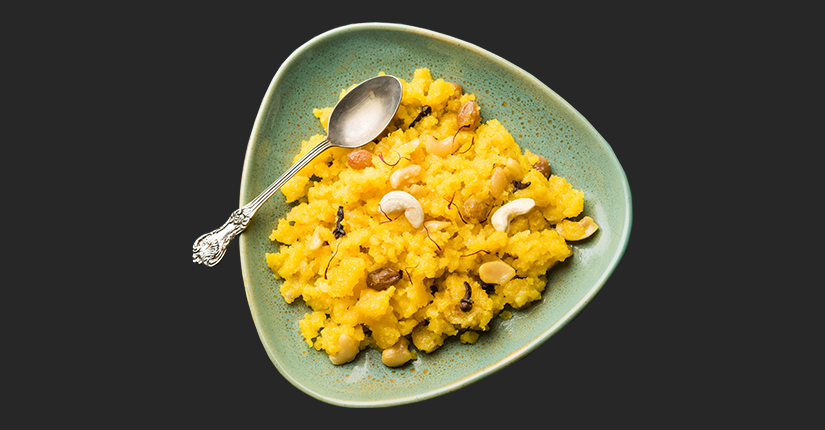 Healthy sheera is a traditional dish which curbs your sweet cravings and also is relished by almost everyone during the time of changing weather when the cold and cough are common amongst most of us. Relish this quick and delicious recipe, rich in healthy calories and serve it to your guests too.
Nutritional Benefits
Pineapple is loaded with nutrients and is rich in antioxidants or the enzymes that ease up the digestion. They help in boosting immunity by suppressing the inflammation. It helps in easing the symptoms of arthritis. The combination of pineapple with the semolina and the cardamom gives a delicious taste and is extremely healthy.
Ingredients
20ml pineapple juice
1 teaspoon ghee
20-gram semolina
5-10 grams of coconut sugar
1 teaspoon of low-fat milk
Cardamom powder- 1/4 tsp
Few saffron strands
2-3 grams chopped mixed nuts
Per Serving:

Nutrition Info
Amount
Calories
88 kcal
Carbs
13.1 grams
Protein
0.7 grams
Fats
4.1 grams
Method
Start by mixing saffron strands with 1 teaspoon of skimmed milk and keep it aside.
Heat ghee in a non-stick pan, add semolina in the pan and roast it for about 5 minutes or till the aroma arrives.
Then add in the pineapple puree and some water to mix. Let it cook for 2-3 minutes.
Add in the coconut sugar while stirring the mixture to make sure there is no formation of lumps.
Add in the saffron mixture and cardamom powder.
Serve warm garnished with nuts.
Over to you
Sweets can indeed be healthy and pineapple sheera is one of them. Try the recipe for this festival season and switch to the healthier version for desserts!