Zucchini Curry
By Nmami Agarwal 29-Sep 2021 Reading Time: 2 Mins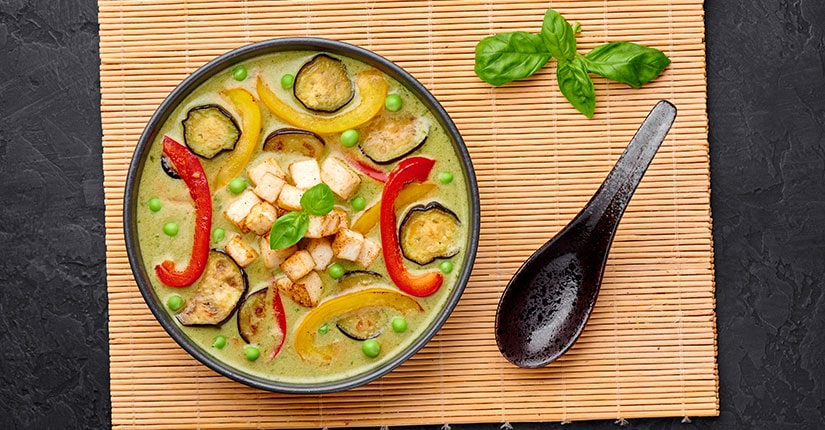 Healthy munching options include stir fry veggie curry with a burst of color and flavor. The combination of green vegetables like zucchini, broccoli increases the vitamin A and folic acid in the recipe.
Nutritional benefits:
Spinach is by far the healthiest green vegetable to be added in a dish providing great amounts of Vitamin A, folic acid, nitrates which help reduce blood pressure levels, are good for eye health and fiber helps in constipation. Broccoli has a good amount of fiber and also contains iron, potassium, calcium, magnesium and selenium, and various vitamins essential as it is needed for blood clotting and helps in keeping the bones healthy and strong. Zucchini is rich in antioxidants and reduces blood sugar levels and aids digestion.
Ingredients:
10 grams broccoli
10 grams spinach
10 grams zucchini
1 teaspoon oil
5 grams garlic
5 grams capsicum
10 grams onion
5 grams cabbage
100ml vegetable stock
1 teaspoon mixed herbs
1 teaspoon red chili flakes
Salt and black pepper to taste
Calorie count
Per Serving:

Nutrition Info
Amount
Calories
57 kcal
Carbs
4.9 grams
Protein
1.2 grams
Fats
4.1 grams
Method:
Heat some oil in a skillet and add in the onion to saute till they turn golden brown
Wash and cut the vegetables
Then add in the cabbage and capsicum to sauté for 5 minutes. Followed by the rest of the veggies, herbs, vegetable stock and spices.
Stir them well, till the veggies are cooked and stock is reduced to form curry.
Serve hot!
Over to you:
Zucchini stir fry veggie curry offers a variety of textures to relish and is a great snack to grab on during peak hunger hours!