Oats, Cranberry and Walnut Bread
By Nmami Agarwal 29-May 2020 Reading Time: 3 Mins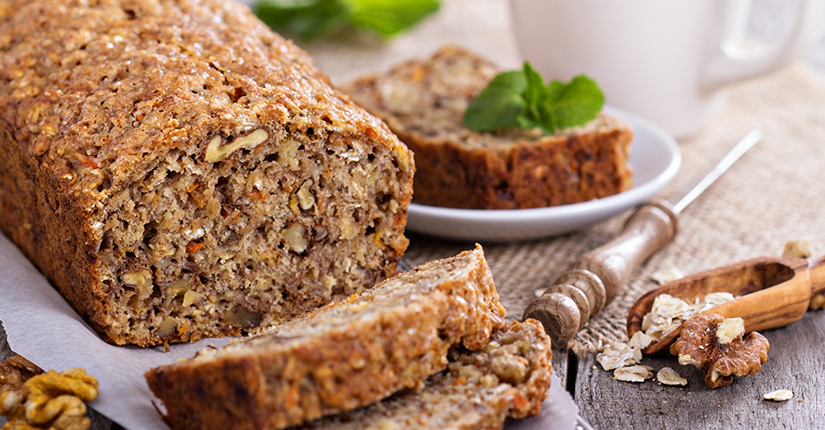 The perfect recipe to grab on while sipping your evening tea with friends or family. It is definitely packed with great taste and different flavours that makes it want to eat more. This bread has a very crumbly texture and the addition of cranberries and walnuts gives it a perfect tartness and flavour.
Nutritional benefits:
Oats being the main ingredient is a great source of fibre that is good for constipation and helps in lowering the blood sugar levels. It helps in losing weight as well. Cranberries, on the other hand, are great in antioxidants and helps in lowering the risk of urinary tract infections and improve the immune system. With the health benefits of walnuts and taste of other ingredients, this recipe is a must to try.
Ingredients:
15 grams oats flour
5 grams oatmeal
5 grams walnuts
5 grams cranberries
A pinch of baking powder
50 millilitres low-fat milk
1 teaspoon of apple cider vinegar(optional)
1 egg white
Salt as per taste
½ teaspoon of honey
½ teaspoon oil
A teaspoon of orange zest
Per Serving:

Nutrition Info
Amount
Calories
165 kcal
Carbs
16.9 grams
Protein
8.4 grams
Fats
7.2 grams
Method:
Start by preheating the oven at 180 degree Celsius.
Meanwhile, take the milk and add in the apple cider vinegar and let it sit for about 5-7 minutes.
Take some oats flour, oats, baking powder, salt and some honey. Mix them well.
In a separate bowl beat the egg whites and add in the orange zest and milk- apple cider vinegar mixture. Stir them well.
Mix the dry flour mixture to this and stir well until it turns into a batter.
Take a greased tin and add in the batter. Then add the chopped walnuts and cranberries and bake for about 30-40 minutes at __________.
After that serve it with that perfect cup of evening tea!
Over to you
This highly nutritious and easy to prepare bread is a healthy go-to snack to munch on anywhere- anytime. Fruits or nuts can be added in this recipe to give it a different punch!