Grilled Apple Sandwich
By Nmami Agarwal 25-Feb 2022 Reading Time: 2 Mins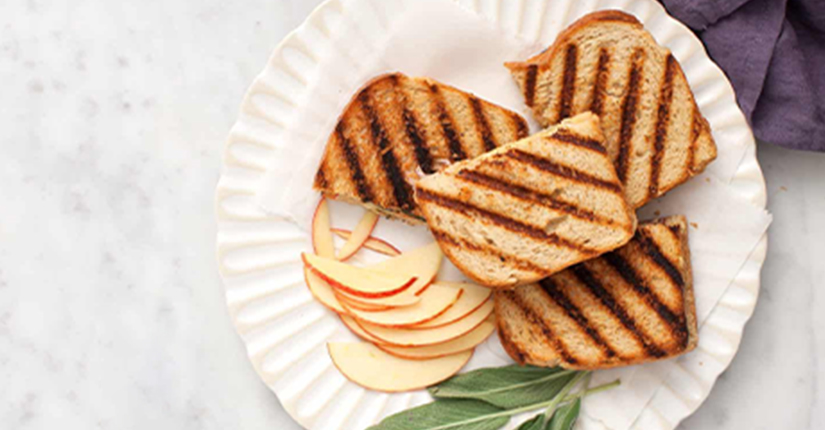 Relish your taste buds with this nutritious grilled apple sandwich. Also, the best meal to surprise your kids with! It is very easy and quick to prepare. It is a great snack to pack in the lunch box or serve as an evening treat to bring happiness to everyone's face guaranteed!
Nutritional Benefits
Apple is highly nutritious that lowers the risk of diabetes and promotes weight loss. Cinnamon on the other hand is a great spice to add on as it helps in lowering blood pressure. Peanut butter is good in potassium and protein that helps to lower the risk of high blood pressure, stroke, and heart disease.
Ingredients
1-2 bread slices- whole wheat or multigrain bread
20 grams apple
A pinch of cinnamon
5 grams peanut butter
1 teaspoon honey
Calorie Count
Calorie
132 Kcal
Protein
4 grams
Carbohydrates
22 grams
Fat
3.7 grams
Method:
Take a bowl to add cinnamon, honey, and peanut butter.
Then mix and spread evenly on 1 slice of bread
Layer the apple slices over it and drizzle a bit more of the mixture over the apples.
Place the other slice of bread and grill it for a minute and serve!
Over to you
Forget that normal and simple bread sandwich and switch to this delicious grilled apple sandwich. This is not just healthy but also filling. Prepare it as per your taste and different fruits can be added!