Golden Milk
By Nmami Agarwal 10-May 2022 Reading Time: 2 Mins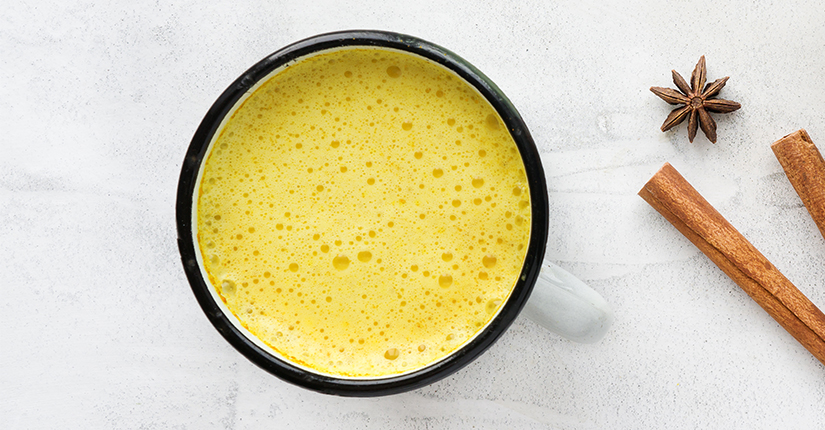 Golden Milk is our traditional 'haldi doodh". It is a delicacy made of simple ingredients like milk, turmeric, and spices, yet has medicinal benefits. It fights infection, cough, congestion, cold, menstrual cramps and skin problems. A home remedy that's ready to serve you with all the good health.
Nutritional Benefits
Milk is an excellent source of calcium and protein and helps build stronger bones, promote heart and skin health. It is also known to induce sound sleep. Turmeric has antibacterial and antibiotic properties which help fight bacterial and viral infections. Other spices like cardamom, black pepper will give you enhanced immunity. Golden Milk with all the ingredients, will surely give you a healthy glow, strong bones, immunity, will purify your blood, aid weight loss and improve sleep quality, making it the perfect thing to have before you go to bed.
¼ teaspoon ground turmeric, or to taste
¼ teaspoon ground cardamom
⅛ teaspoon ground black pepper
1 pinch ground ginger
1 pinch ground cloves
1 pinch ground allspice
1 cup milk
¾ teaspoon honey, or to taste
⅛ teaspoon vanilla extract
Calorie Count
Calories
154 Kcal
Fat
5.3 grams
Carbohydrates
19 grams
Protein
8.4 grams
Method:
Whisk turmeric, cardamom, black pepper, ginger, cloves, and allspice together in a small bowl.
Heat milk in a small saucepan over medium heat until heated through, 3 to 4 minutes.
Stir honey and vanilla extract into milk until completely dissolved.
Whisk 1 teaspoon turmeric mixture into milk mixture; reduce heat to medium-low and cook until flavors blend, 2 to 3 minutes.
Pour mixture through a strainer and serve.
Over To You:
Health in a cup, right? So replace your usual hot chocolate, coffee or plain milk with a warm cup of wellness.