Chicken mushroom Risotto
By Nmami Agarwal 01-Jan 2021 Reading Time: 2 Mins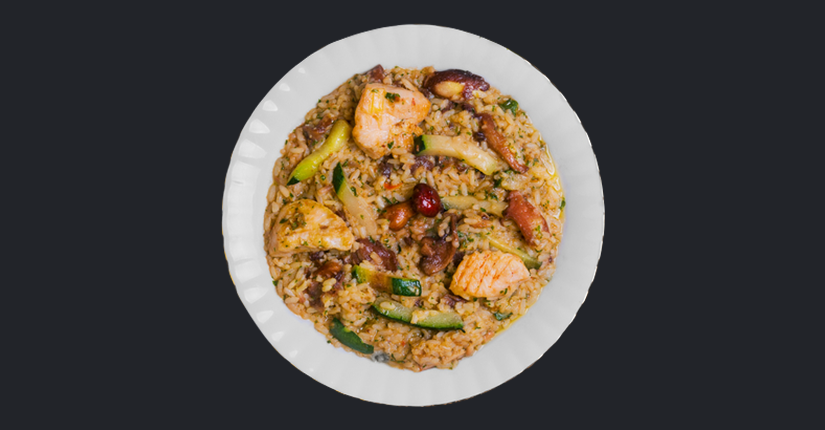 Chicken mushroom Risotto is an amazing dish which is quick and easy to make and is tasty and filling to eat. It is a dish which is filled with the goodness of healthy chicken and mushrooms.
Nutritional Benefits
Chicken is a lean meat which is an excellent source of protein. It plays a role in muscle building and tissue repairing. Mushrooms are rich in potassium, protein, Vitamin K and Vitamin C. Potassium plays a very important role in boosting heart health and controlling high blood pressure.
Ingredients
20 grams rice
20 grams mushrooms
20 grams onion
10 grams peas
5 grams grated cheese
30 grams chicken
5 grams olive oil
Per Serving:

Nutrition Info
Amount
Calories
155.3 kcal
Carbs
19.6 grams
Protein
4.1 grams
Fats
6.3 grams
Method
Heat oil in a sauce pan.
Chop the mushrooms and the onions.
Sautee onions in the oil until translucent.
Add rice and toss for few minutes. Then add water and stir.
Leave on low flame and let it simmer for few minutes.
Add mushrooms, boiled chicken and peas and leave for another 5 minutes.
Once the rice is cooked grate some cheese onto it to give it desired creaminess.
Your chicken mushroom risotto is ready.
Over to you-
So, enjoy this healthy and delicious risotto plate and pamper yourself with the amazing creamy and tangy flavour.