Mustard Vinaigrette Wraps
By Nmami Agarwal 26-Apr 2021 Reading Time: 2 Mins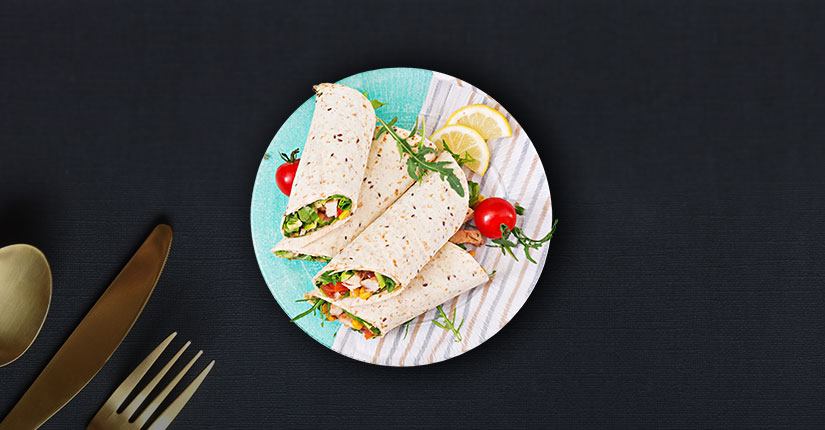 Mustard vinaigrette wraps are very nutritious and easy to prepare breakfast. Different vegetables as per choice can be added to increase the nutritional content. This easy to prepare wrap is a package of goodness that is super fresh and has just the right amount of spice and zing.
Nutritional benefits: Carrots provide various health benefits such as lowers blood cholesterol; aids weight loss, and are good for eye health. Squash is good in fiber and low in calories and helps in digestion; they also improve eye health and promote the production of healthy blood cells. Cabbage contains various antioxidants that help reduce inflammation. It contains fiber that helps digestion as well.
Ingredients:
10 grams carrot
15 grams all-purpose flour
10 grams red cabbage
10 grams squash
10 grams spring onions
A handful of basil leaves
1-2 green olive
½ teaspoon mustard powder
½ teaspoon oil

Calorie count
Per Serving:


Nutrition Info
Amount
Calories
131 kcal
Carbs
22.5 grams
Protein
3.9 grams
Fats
3.5 grams

Method:

1. In a large bowl, combine flour and salt. Stir in water and oil and prepare the dough. Make sure the dough is soft. Keep aside
2. Then Take a clean bowl and mix in all the other ingredients.
3. Divide dough in equal portion and roll the divide portions in a circle
4. Then take a sheet of foil and place the tortilla over it.
5. Add in the mixture and form a roll of it. Mint and mustard chutney can also be added as the base if required.
6. Serve it directly or with a dressing of any choice.
Over to you