Rainbow Orzo Salad
By Nmami Agarwal 24-Apr 2021 Reading Time: 2 Mins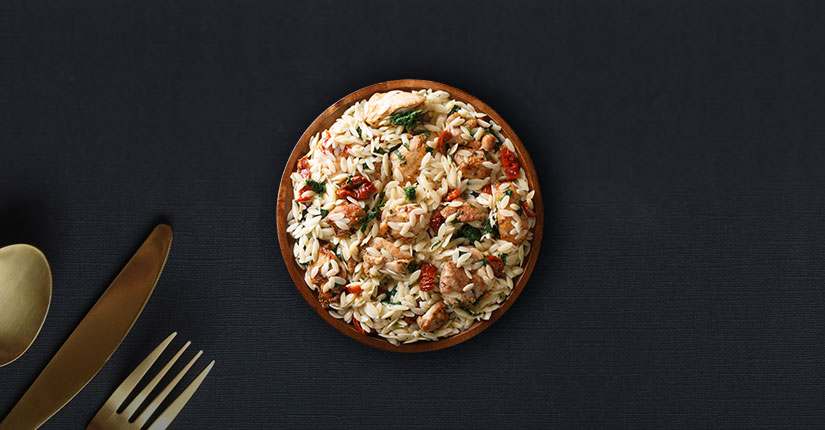 Rainbow orzo salad is a zingy and hearty salad made with chickpeas, mangoes and bell peppers. This salad is topped with light and delicious dressing that you can have along with your meals or as an evening snack when sudden hunger pangs hover you.
Nutritional benefits
Whole pulses like chickpeas are quite important. They are energy dense, have good amounts of fibre and improve digestion. Apart from this chole are also a very good source of Calcium and protein.
Ingredients:
20 grams bell peppers
20 grams ripe mango, cubed
20 grams small cucumber, chopped
20 grams small red onion, diced (1/3 cup)
1 small garlic clove, minced
10 grams orzo
10 grams boiled chickpeas
1 teaspoon chopped fresh herbs (mint, basil, and/or cilantro)
1 teaspoon olive oil
½ teaspoon tahini
1 teaspoon vinegar
1 tablespoon lime juice
1 teaspoon paprika
Salt and pepper as per taste

Calorie count
Per Serving:


Nutrition Info
Amount
Calories
158.3 kcal
Carbs
18.2grams
Protein
3.6grams
Fats
7.4 grams

Method:

1. Firstly, in a bowl combine bell peppers, onions, cucumber, mango, boiled chickpeas and garlic.
2. Secondly cook orzo according to package instructions and toss it in a little bit of olive oil and keep it aside for a while.
3. In a bowl make the dressing using vinegar, tahini, lime juice, olive oil, paprika, herbs and salt and pepper.
4. Now add the cooked orzo in a vegetable bowl and drizzle it with prepared dressing.
5. Mix well and serve.
Over to you:
Rainbow orzo salad is a simple and quick recipe and can be prepared instantly. It's a must try.