Flavourful Mushroom Risotto
By Nmami Agarwal 30-Nov 2021 Reading Time: 2 Mins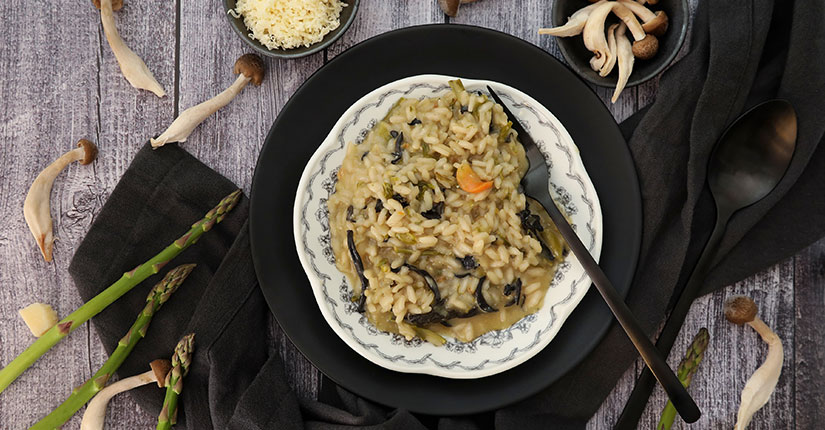 Mushroom risotto is very easy to prepare and a perfect dinner meal. These delicious gluten-free and vegan mushroom risotto can be prepared with the leftovers and can be paired with any of the main dishes served.
Nutritional benefits
Mushrooms are a good source of fiber and are very low in calories. They mitigate the risk of developing serious health conditions. Quinoa is a complete protein containing all essential amino acids. It also helps in constipation and blood pressure as it has good fiber content.
Ingredients:
½ teaspoon olive oil
30 grams mushroom
15 grams quinoa
100 ml vegetable stock
15 grams risotto rice
1 teaspoon chopped thyme
Sea salt and black pepper as per taste
Calorie Count
Calories: 74 Kcal
Carbohydrates: 9.1 grams
Fat: 3.4 grams
Protein: 2 grams
Method:
Start by heating a pan over medium flame. Then add in the oil and sauté the mushrooms.
After that add in the boiled quinoa and allow it to cook for 10 minutes on low flame.
Then add in some vegetable stock and allow cooking, after 1-2 minutes add in the rice and the remaining vegetable stock.
Allow the dish to cook well till the quinoa and rice are tender and soft.
Next add in the chopped thyme, salt, and pepper.
Serve them with the kale pesto!
Over to you:
If you are bored of the traditional ways of consuming mushrooms then try this delicious mushroom risotto with saute mushrooms, quinoa, and rice. It's extremely delicious and perfect for the weeknight dinner.