CILANTRO WALNUT CHICKEN POT
By Nmami Agarwal 12-Apr 2020 Reading Time: 3 Mins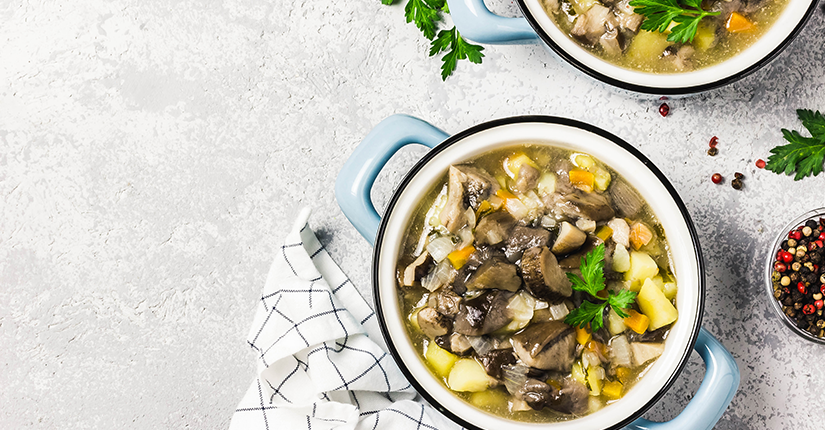 Cooking in an instant pot makes this chicken fork tender in under 30 minutes. The chicken with its delicious lemon sauce is great over rice seasoned with finely chopped California walnuts and chopped fresh cilantro.
Nutritional benefits
Walnuts: 7 whole walnuts are recommended for daily consumption as these include 2.5 g of alpha-linolenic acid (ALA), 4 grams of protein, 2 grams of fiber and minimal carbohydrates.This proportion of macronutrients is responsible for satiety, anti-inflammatory actions and offers a protection to heart and brain.
Chicken- Chicken has a very high protein content, which plays a very important role in maintaining muscular health and working for the wear and tear of tissues. Chicken has two nutrients that are great for reducing stress – tryptophan and Vitamin B5. Both of them have a calming effect on your body.

Ingredients:
Cilantro Walnut Sauce

1 cup lightly packed cilantro leaves and stems
1/2 cup California walnuts
1/4 cup chicken broth
3 tablespoons fresh lemon juice
3 cloves garlic, sliced
1 jalapeno pepper, stemmed, seeded and sliced

Chicken

2 teaspoon olive oil
4 large boneless, skinless chicken breasts
1 teaspoon onion powder
1/2 teaspoon sea salt
1/2 cup chicken broth
1/4 cup chopped California walnuts
Fresh cilantro leaves and fresh pico de gallo (optional toppers)
Nutrition Info
Amount
Calories
130 kcal
Carbs
3 grams
Protein
16.5 grams
Fats
6.2 grams
>Method
Place all Cilantro Walnut Sauce ingredients in a food processor and process until very smooth, scraping down the sides as needed.
Sprinkle chicken with onion powder and sea salt. Set instant pot to sauté and melt half the butter. Add half the chicken and cook until lightly browned. Remove chicken from pot and repeat with remaining butter and chicken. Place all chicken in pot, add broth and lock pot.
Set to pressure cook on normal temperature for 12 minutes. When cooking cycle is done, let stand for at least 10 minutes before carefully releasing the pressure valve.
Remove cover and switch back to sauté setting. Let cook until half of the liquid has cooked off.
Remove chicken from pot and stir in Cilantro Walnut Sauce. Serve sauce immediately over chicken and garnish with walnuts, cilantro leaves and pico de gallo, if desired.
Over to you
Cilantro walnut chicken makes up for an amazing dinner recipe. You can serve it with steamed brown rice or flat wheat bread. Adding cilantro provides a distinctive aroma to this power-protein main course meal. Do give it a shot!