Quinoa and Black Bean Salad
By Nmami Agarwal 18-Nov 2021 Reading Time: 2 Mins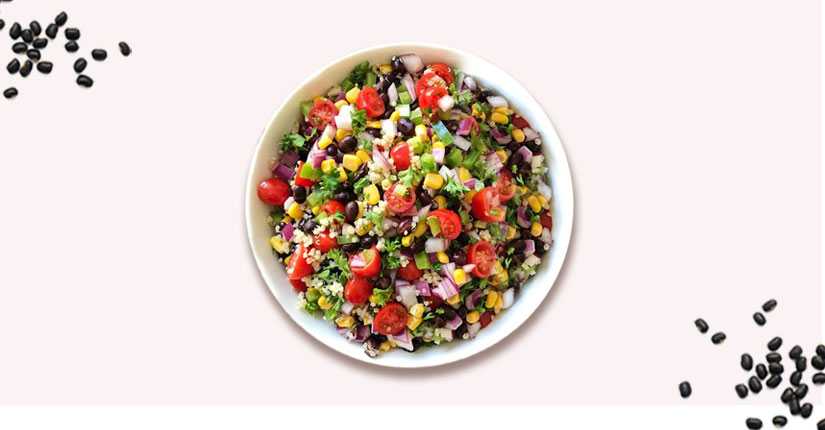 Quinoa and Black Bean Salad is a colorful, hearty salad and a healthy side dish ideal for winter season. Tossed with vegetables and black beans it provides you with ample fibre and other health benefits too.
Nutritional Benefits:
Quinoa is a high fibre, high protein and gluten-free grain which provides you with major health benefits. It has anti-cancer, anti-inflammatory properties due to the high quercetin content which act as an antioxidant.
Ingredients:
20 grams Quinoa
10 grams black beans (boiled)
20 grams bell peppers
20 grams carrot
20 grams spring onion
10 grams corn
¼ teaspoon vinegar
¼ teaspoon thyme
¼ teaspoon oregano
¼ teaspoon chilli flakes
5 grams olive oil
Calorie Count:
Calorie = 107.8 kilo calories
Protein = 4.3 grams
Carbohydrates = 14.8 grams
Fat = 3.5 grams
Method:
Preheat the oven to 400-degree F. Place the chopped vegetables on the baking sheet and drizzle with olive oil. Allow baking for 20 -30 minutes until vegetables turn golden brown.
In a hot pan cook quinoa until it becomes soft.
Take out the roasted vegetables and transfer the vegetables, quinoa and boiled beans to the serving bowl.
Make a mixture of vinegar, oregano, chilli flakes, thyme and toss it on the salad.
Your quinoa and black bean salad are ready. Serve and enjoy.
Over to you:
Quinoa and Black Bean Salad gets easily prepared with no time-consuming preparations so put your hands on this simple recipe in this cold winter season.